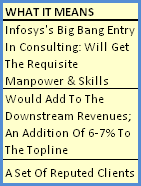 Infosys Technologies Ltd. has acquired UK-based SAP consulting company Axon Group plc for $753 million in an all cash deal. Infosys will pay a price of $11.12 per share for LSE-listed Axon, which is a 33% premium over it's six month average price and 19% premium over its closing price on Friday. This will be the biggest acquisition to be undertaken by Infosys. Axon provides consultancy services that designs, implements and supports solutions in companies who have selected SAP as their strategic enterprise platform. Axon reported revenues of $378 million with a profit after tax of $37.4 million. Thsi is the biggest acquisition by an Indian IT company. The biggest till now was Wipro's acquisition of Infocrossing for $600 million in August last year. The transfer of ownership is expected to be completed by November and Infosys would delist Axon once it is completed.
Axon is debt free company with cash and cash equivalents of $46.3 million. Axon has a presence in UK, US, China and Australia. Some of the significant shareholders in Axon include private firm BlackRock Investment Management (6.6%), Aegon Asset Management UK plc (6.1%) and Standard Life Investments (6.1%). Some of the clients of Axon are Pratt & Whitney, Sikorsky, Goodrich Corporation, Air Canada, Aquarion, Transport for London, The AA, Xerox, Birmingham City Council and BP. The company was founded in 1994 and has around 2,000 employees.
Kris Gopalakrishnan, CEO of Infosys said: "We are excited about this acquisition. The strategic combination of our groups will accelerate the realization of our aspiration- to become the most respected provider of business transformational services in global marketplace." ABN Amro were the advisors on the transaction.
Unlike its other peers in the IT industry, Infosys does not have an inorganic growth strategy. Its last acquisition in the IT space was that of Expert Information Services for $23 million in 2003. Wipro had acquired Infocrossing last year for $600 million, which marked the biggest acquisition by an Indian IT company. It has also acquired Spectramind ($83M) and Enabler ($53M). TCS has also wrapped up a few deals such as that of Tata Infotech ($260M) and TKS-Tecknosoft ($81M). Subex Azure has also acquired some big companies. It acquired Azure Solutions in 2006 for $140 million followed by acquisition of Syndesis last year for $166 million.