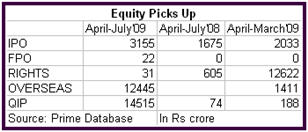 Who said there is a liquidity crisis? At least first four months of this financial year shows the purse strings have loosened. Indian companies raised Rs 30,168 crore ($6.3 billion) through various equity and equity convertible tools (excluding private placements) in the first four months of 2009-10. This is almost two times the total fund raising through issue of equity for the whole of 2008-09 (Rs 16,254 crore ~ $ 3.3 billion).
The surge in fund raising activity was led by qualified institutional placement (QIP), besides overseas issues and the revival in the primary market through IPO/FPOs. Some firms which raised large chunks through the market include -- Unitech, Indiabulls Real Estate, Adani Power, Mahindra Holidays, Bajaj Hindusthan and Indiabulls Financial.
According to latest data compiled by Prime Database, QIPs registered a quantum jump after seeing virtually zero activity last year. Companies have raised as much as Rs 14,515 crore through the QIP route in the first four months of the financial starting April'09.
Overseas issues (including equity as well as bonds) also saw significant pick-up with firms raising Rs 12,445 crore as against just Rs 1,411 crore for the whole of 2008-09.
If we compare just domestic issues (IPO/FPO, Rights, QIPs), then the fund raising in the first four months stands at Rs 17,723 crore as against a mere Rs 2,327 crore in the same period last year, a jump of more than seven times.
Given some large issues in the pipeline including government owned hydropower generation firm NHPC's which is aiming to raise anywhere between Rs 5,032-6,038 crore through IPO which opens for subscription this Friday, the quantum of funds going into primary market will only rise. This would mean strong revival in advisory fees for I-bankers from equity issues.