A recent bi-annual analysis of the market capitalization of the most highly valued companies around the world by professional services organization Ernst & Young has some interesting news for India Inc.
--- As per a recent study by Ernst & Young, India is now home to nine of the top 300 most valued companies globally as on 30 June 2009, 80% higher in share compared to just five companies as on 31 December 2008.
--- Highest growth in share amongst Asian countries as well as BRIC peers.
According to the study, the recession has altered the make up of the top 300 global companies by value with a marked move away from the US and Europe to Asia. Whereas the proportion of North American and European companies fell 8% and 3% respectively, as of 30 June 2009, compared to 31 December 2008, the number of Asian companies has increased 16%. Of these Asian companies, the most dramatic growth has been in Indian companies both in count as well as market capitalization.
Compared to 5 companies with a total market cap of USD 147 bn on 31 December 2008, there were 9 Indian companies in the top global 300 with a total market cap of USD 308 bn. This is an increase of 80% in the count of companies and 109% in the market capitalization.
The industry mix of these companies highlights the resilience of the core sectors to the current economic environment. Six of these nine companies come from basic heavy industries such as oil & gas, power and mining, whilst the remaining three come from the services sector. Reliance Industries has the highest market cap, followed by ONGC, NTPC, MMTC and Bharti Airtel. The new entrants in June 2009 were NMDC, State Bank of India, BHEL and Infosys Technologies.
Globally, though, the finance sector is picking up and has been the strongest sector in the top 300. Energy companies are gaining ground, whereas heavy industry and utilities are on the decline.
The total market capitalization of the top 300 global companies increased by 8% or US$1.1trillion from 31 December 2008 to 30 June 2009, highlighting both the slide in stock markets in the first quarter of the year and the steady improvement from March onwards. This is after successive declines of 22% and 33% in market capitalization in the previous two six-month periods, which wiped US$11.3trillion off the value of those companies.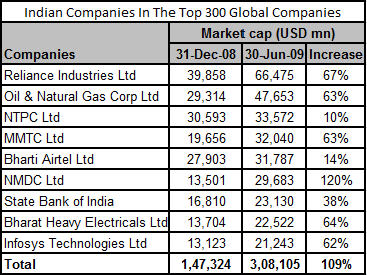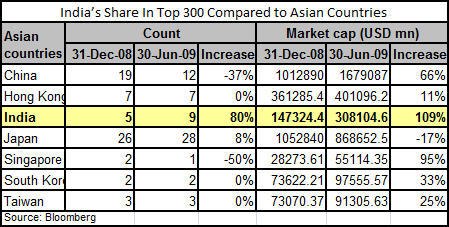 (The article is by Ranjan Biswas, Partner and National Director for Transaction Advisory Services, Ernst & Young. Views expressed are personal.)