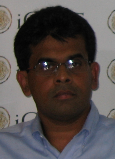 iGate CFO Sujit Sircar finds himself in a rather curious situation as he has to deal with a debt of $700 million on the balance-sheet. That is unusual in the Indian IT services space where top-rung companies are sitting pretty on huge cash reserves. Agreeing that managing this debt on the books would be a challenging task up ahead, Sircar told VCCircle, in a quick interview, that it still looked manageable. Sircar elaborates on Apax stake, integration challenges and the huge shot-in-the-arm the deal brings to iGate. Excerpts:-
The deal (iGate acquiring majority stake in Patni) puts you up on the pecking order of Indian IT services firms. What does it mean for iGate?
One, we get into the magic number of $1 billion (top line). And, that takes you across through most of the customers when they open the order book. Two, the deal combines the stable delivery capability of Patni and iGate's high-growth vision. It is a combination of challenger and stable firm, which complements each other. Three, we are strong in BFSI and for Patni too, 30% of its revenue comes from insurance. Since BFSI is the highest growth area in the market, this also is complementary. This deal should push us to the league of top six or seven IT services firms in India.
What will be Apax' stake in iGate?
We have a commitment to draw $270 million to $480 million from Apax.  The maximum we can have that amount is for six years. Depending on how much we draw, their stake in iGate could be anywhere between 19-28% to around 36%. Apax gets one board seat in iGate, with this deal.
How do you assess the integration challenges both from balancesheet and HR front?
On the balancesheet, $700m debt looks a big number. It is 3-3.5x of EBIDTA. But, if I take into account net debt (combining Patni's reserves), it is only 2x. Though it is a challenge, it looks manageable.
Our immediate aim is to have a virtual integrated management team steered by Phaneesh Murthy. The first aim is have integration within the management teams and have a common go-to market strategy. We have to see the capital structures of the entities before building a strategy on merger, delisting or one listing through IDR. Like with any integration, new roles will evolving and some roles might not be there. We are geared for it.  Layoffs will be very rare. There will be challenges but right now we are looking at how we can move together.
How does it feel to go ahead and acquire a firm much bigger in size?
It is like an audacious dream. Five years back, we said that by 2012, we will become $1-billion company. We carried our mission and vision. We have been one of the fastest growing companies.  We want to consolidate and make this a high-growth deal. iGate has itself been a turnaround story.
What kind of customers does this deal bring to the table?
On a combined basis, we will have 360 customers. Our biggest customer will be GE. And, there are only two common customers.
How challenging was the deal-making experience considering it has been in the air for a while?
It was quite challenging. It (Patni) has been up for sale for some time now. As it is one of India's oldest companies, there will be emotions attached. At the end, it has ended well.