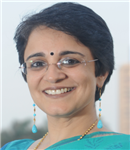 ICICI Securities Ltd, one of India's largest equity houses, has set up a special team to tap the sub-$10 million fundraising market, which remains largely fragmented and unorganised investment space currently. The team, which is working on pilot transactions, will help small and medium-sized enterprises and start-ups raise growth capital, as the country's expanding HNI base is beginning to chase alternate investment themes.
India's upto $10 million fundraising market saw deals worth $615 million struck across 146 transactions during 2009, according to VCCEdge, which is the research arm of VCCircle.
"The team we have set up will focus on sub $10 million deals. We are in the midst of pilot transaction now, and we should formally hit the market soon. We estimate this deal space to be around $500 million annually in India," Madhabi Puri Buch (in pic), Managing Director & CEO, ICICI Securities told VCCircle. I-Sec thinks there is a market to be occupied here even as the pedigreed venture capitalists are turning risk averse paving way for HNIs and their private wealth managers.
"In the prevailing climate, we see the funds becoming risk-averse and there is increasing HNI participation," Ms Buch said, while explaining that I-Sec could tap the clientele of its private wealth management division as a source for such funding. "There is increasing interest even though I would not like to comment more at this stage, as it is still early days," she added. Ms Buch said I-Sec will have data room and research back up to enable the HNIs perform their due duiligence ahead of potential investments. The newly constituted team will be based in Mumbai.
As an integrated securities firm, I-Sec's move will be keenly watched as some its peers are also working to tap the growing appetite of rich Indians to board the private equity type investments. A large number of rich Indian families are setting up family offices and trusts to manage their investment portfolios, which are taking exposure to the high return high risk alternate investment assets such as VC and PE funds.
Then there are business families who have exited their enterprises and are now turning serial entrepreneurs. Former promoters of Zandu Pharma, the Vaidyas, and erstwhile Gujrat Ambuja promoters, the Sekhsaria family, have invested into emerging companies either directly or through VC funds. In fact, Aditya Birla Private Equity and ICICI Venture have raised significant part of their capital from domestic investors, which include the HNIs, apart from the institutional investors.
While some of the pedigree global venture capitalists turn selective in investing, SIDBI Ventures and India focused SME funds like Forum Synergies have been investing in the below $10 million growth capital deals. SIDBI Ventures, which exhausted its Rs 500 crore fund, is now in the market raising Rs 1000 crore new fund, while Forum Synergies still on the road in its efforts of raising a similar sized first fund.
I-Sec's Buch believes that while wealthy Indians might take some exposure in VC or PE funds, many would prefer their investments to be managed directly through a family office or through advisors. She ruled out the possibility of I-Sec setting up a fund of its own explaining that group arm ICICI Venture was already occupying the PE space, and there was no point in duplicating the effort.
VCCEdge estimates show that upto $10 million fundraising market is surging again with deals worth $220 million struck in the first three months of 2010. The deal street for investments equivalent to $10 million or less accounted for $436 million in across 99 deals in 2005. It touched $715 million with 160 deals in 2008 before the global economic crisis pulled it down to $615 million in 2009.
"It is a vast market especially as India's entrepreneurial spirit is surging ahead. But the challenge for large equity houses or securities firms is to be patient with the small entrepreneurs and being sensitive to their requirements. Besides, still a large number of Indian HNIs do not clearly understand investments into alternate investment class, or structued similarly," said a fund manager who is now on the road for raising his latest fund that invests in the below $10 million market.