On Monday, Telecom Minister Manoj Sinha said the government is unlikely to go in for another auction of telecom spectrum anytime soon, after the recently concluded round received a muted response.
Sinha would have hoped that at the very least, the government will garner Rs 5.66 trillion via the sale of spectrum considering the fact that there was intense competition after Reliance Industries Ltd operationalised its 4G network Jio last month.
But the government ended up netting just Rs 65,789 crore, of which it will get around Rs 32,000 crore as upfront payment this year, while the rest will accrue in the next 10 years.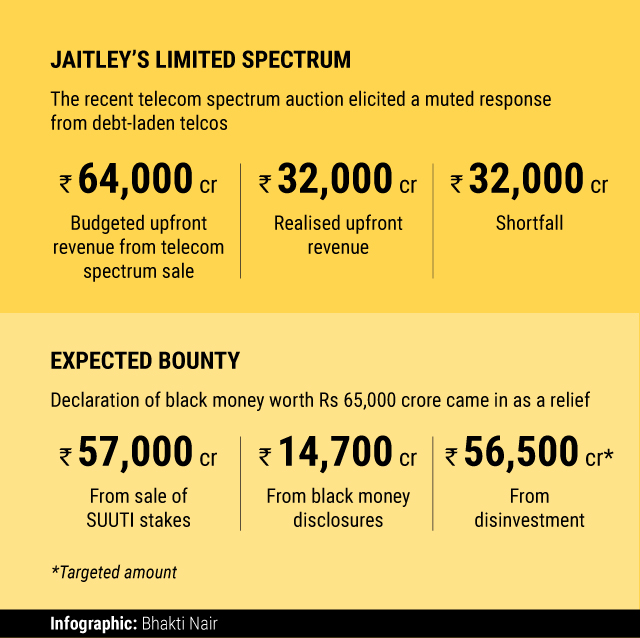 This, would effectively leave a Rs 32,000 crore hole that Finance Minister Arun Jaitley will have to fill. Jaitley will hope that not only does the government manage to meet its disinvestment target, but also that economy remains buoyant so that higher direct and indirect tax receipts this year can bail him out.  
The most expensive 700 MHz and 900 MHz bands found no takers, as debt-laden telcos were not willing to cough up money for the high reserve price that had been set for these bands. The 700 MHz spectrum alone would have fetched the exchequer Rs 4 trillion.
"The industry did not have an ecosystem ready for the 700 MHz spectrum, which alone would have fetched Rs 4 trillion," Sinha told CNBC-TV18 on Monday.
Finances going awry
Now, if one looks at this year's budget documents, it becomes apparent that the government was hoping to get a little over Rs 98,994 crore via non-tax revenues from "communication," of which Rs 64,000 crore, was expected on account of the upfront payment from the spectrum sale this year.
This effectively means a shortfall of a little over Rs 32,000 crore in non-tax revenues because of the tepid auction.
This shortfall comes even as the government is already burdened with an extra outgo on account of the implementation of the 7th pay commission as well as the one-rank-one-pension award given to ex-servicemen. The two together would put a burden of Rs 1.07 on the government this year.
Moreover, the April-August fiscal deficit is already at 76.4% of the yearly target, up from 66.5% during the year-ago period.
But all is not lost
D K Srivastava, chief policy advisor at EY, said the government has several instruments to shore up its finances. These include direct and indirect tax receipts and accruals from disinvestments. "Indirect taxes are reporting up, except for customs and direct taxes are reporting up except for corporate taxes," he said.
"If nothing works, they can make some adjustments on the expenditure side," Srivastava added.  
In fact, this year, another unexpected source has partially bailed the government out. On 2 October, Jaitley said under the government's Income Declaration Scheme, black money worth Rs 65,000 crore had been declared. This, the finance minister said, will yield Rs 29,000 crore in taxes in the next two years, of which Rs 14,700 crore will accrue this year alone.
The other major source of non-tax revenue is disinvestment in public sector undertakings (PSUs). During 2016-17, the government is targeting Rs 56,500 crore in disinvestment proceeds. Citing unnamed government officials, in separate reports, The Economic Times and Business Standard have said in the first six months of the financial year, the government has received Rs 21,000 crore through partial stake sales. This is Rs 8,000 crore more than what the government netted last year during the same period. This means, the government has another six months to mop up the remaining Rs 35,500 crore, which it hopes to do by partially selling its sales or completely exiting as many as 22 PSUs.
In addition to this, the government could raise another Rs 57,000 crore by offloading stakes in companies like Larsen & Toubro, Axis Bank and ITC Ltd, in which it owns stakes via the Specified Undertaking of the Unit Trust of India (SUUTI).  
Finally, Jaitley may also take heart from the fact that an uptick in the economy could see both direct and indirect tax collections zoom. Already, the government has netted Rs 3.36 trillion in indirect taxes and Rs 1.9 trillion in direct taxes.
Another factor that Jaitley will have to watch out for is oil prices. "As long as oil prices remain low, if nothing else works, they will manipulate the specific excise duty rate, which they had done last year as well," Srivastava said.
Despite talks of the Organisation of Petroleum Exporting Countries (Opec) reportedly reaching a deal to cut output, prices eased off this week on doubts over the efficacy of the proposed deal.
Like this report? Sign up for our daily newsletter to get our top reports.