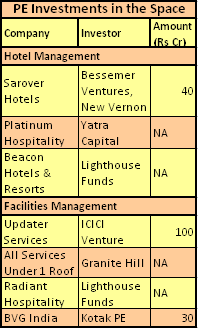 Professional services companies that cater to the hospitality and real estate sector are on the private equity radar. US and India-based mid-market focused fund Lighthouse Funds is the latest to spot such companies and invest money to fuel their growth. 
Radiant Hospitality, a Mumbai based company that provides professional housekeeping services and facilities management to hotels, corporates and apartments, has raked in an undisclosed amount of investment from Lighthouse Funds. Radiant employs 2,500 people and also provides services like pest control, helpdesk and home care services.
This could be the third known investment in this sector by a PE fund. Earlier, New Vernon Bharat had invested $10 million in Updater Services, a leader in facilities management, in 2006. This investment was bought out by ICICI Venture in a private equity secondary (a PE fund selling to another PE fund) deal last year.
Also, last year, Granite Hill India Opportunities Fund, a fund founded by Shailesh Mehta, former CEO of Providian Corp, invested in All Services Under 1 Roof Pvt Ltd, a company that provides facilities management and housekeeping.
Facilities management is a business that has boomed along with the fast paced growth in India's real estate sector. The expansion of corporates, hospitals, hotels and retail companies has increased the demand for such professional services. "Maintenance and upkeep of a property is part of the presentation of real estate, and it's a marketing expense. Property owners are increasingly realising that," said Mukund Krishnaswamy, Co-founder and Managing Director of Lighthouse Funds, which manages a $125 million funds, out of its India investment office in Mumbai.
Interestingly, besides these stand alone companies, many real estate developers have also forayed into facilities and property management business. Delhi-based Vatika Group is one. There are also multinational companies like CB Richard Ellis and Knight Frank who are present in India in this space. There are also players like Tenon which are looking to expand through an inorganic growth strategy.
Managing Hotel Properties
Hotel management services is another hot area that private equity funds are looking at backing. Lighthouse Funds has been nurturing one company in this space. Lighthouse has provided two rounds of funding to Mumbai-based Beacon Hotels & Resorts (first round was one and a half year ago, second round in March 2009), a company founded by Manoj Bhatia, former CEO of Inox Group, which owns a chain of multiplexes. Beacon presently manages six hotels - mainly 3 and 4 star properties.
Beacon has used some of the funds to effect a merger with Concept Hospitality, a company that sets up and operates restaurants, hotels, clubs and resorts. Kamat Hotels, a listed firm, held a 60% stake in Concept while its original founder Param Kannampilly held the rest. With the investment from Lighthouse, Beacon and Kannampilly bought out the stake of Kamat in March this year. 
The merger would make Beacon and Concept one of the top three players in the hotel management space, says Krishnaswamy. They will now manage 20 properties with 1,500-2,000 hotel rooms and will compete with players like Sarover Hotels, the largest player with 35 properties. Sarovar is another PE backed player in this game. Bessemer Venture Partners and New Vernon invested $10 million in the company in 2006. Another outsourced hotel management player is Platinum Hospitality Services, which got backed by Yatra Capital.
The hospitality business had come under pressure over the last 12 months due to a combination of slowdown and the overcapacity being built in certain markets, says Krishnaswamy. This has put pressure on stand alone hotels in various markets which cannot compete with larger chains. According to Krishnaswamy, bringing in players like Beacon to manage their hotels helps get corporate clients as hospitality management firms have large sales teams to attract them.