Note: The early bird discount of 20% ends today. to register.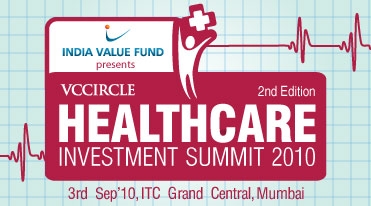 In its second edition of VCCircle Healthcare Investment Summit 2010, we bring to you the best business models in the healthcare and diagnostics delivery space.
What is the right healthcare delivery model for India-Hospitals like Apollo or Fortis, specialized chains like HealthCare Global or a combination of both? What are the challenges to scaling diagnostic delivery chains? Are investors prepared for long gestation play in healthcare particularly mainline hospitals? Are doctors willing to handle power point presentations along with their steths? Is real estate one of the biggest challenges to scale in healthcare delivery? Are Indian hospitals chasing the Asian story?
Whether you are a primary, secondary, tertiary or specialized healthcare provider, these are answers that can impact your future plans. VCCircle's special panel discussion on constructive engagement thoughts between medico-entrepreneurs and investors will shed light on what to look for and how to present your case while seeking investment.
VCCircle brings to you seasoned investors and business leaders to write out the pep-up prescription for your business. The distinguished speaker list includes:
Ajay Aggarwal - Director, Diwan Chand Medical Services Pvt Ltd
Alok Roy - Chairman & MD, Medica Synergie Pvt Ltd
B N Manohar - CEO, Stempeutics Research Pvt Ltd
B.Bhaskar Rao - MD & CEO, Krishna Institute of Medical Sciences Ltd
D A Prasanna- Chairman & MD, Ecron Acunova
Darius D. Pandole - Partner, New Silk Route Advisors
G S K Velu - MD, Metropolis Health Services Ltd
Hari Buggana - MD, Evolvence India Life Sciences Fund
K. Ravindranath - Chairman & MD, Global Hospitals Ltd
Leo Puri - MD, Warburg Pincus
Mayur Abhaya Srisrimal - Executive Director, LifeCell International
Prashanth Prakash - MD, Accel Partners
Rajen Padukone - CEO, Manipal Health Systems
Rajiv Sharma - CEO, Sterling Addlife India Limited
Sandeep Naik - Co-Head, Apax Partners
Sanjay Arte - Partner, India Value Fund Advisors
Sanjay Singh - Founder, Swas Healthcare Pvt. Ltd.
Shiraz Bugwadia - Director, o3 Capital
Siddharth Dhondiyal - Vice President, India Value Fund Advisors
Vinod Ramnani -  Chairman & MD, Opto Circuits India Ltd
Vishal Bali - CEO, Fortis Hospitals
Early bird discount of 20% ends on August 10. to register.