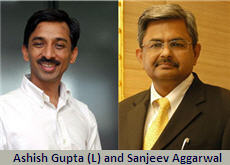 Wish all readers a very happy and prosperous 2011!
We are proud to announce a fireside chat session with Sanjeev Aggarwal, co-founder, Daksh, and Ashish Gupta, angel investor, Daksh at VCCircle Entrepreneur & Angel Investor Forum 2011 on January 20 at India Habitat Centre in New Delhi.
They are two of India's most respected entrepreneurs (now doing their day jobs as investors in Helion Venture Partners). Aggarwal set up business process outsourcing firm Daksh in 1999 during the early days of the BPO industry. Gupta – who incidentally is also his brother-in-law – seed funded Aggarwal and his co-founder Pawan Vaish. Gupta helped figure out the business model (initially providing customer service via internet), and even helped get the first set of big customers like Amazon (Gupta had sold his company Junglee to the online retailer).
Daksh recorded $2 million revenues and 500 people in first year, which zoomed to $60 million and 6,000 people in four years. In between, Aggarwal raised several rounds of institutional financing from investors like Citi Venture Capital International and General Atlantic Partners. In 2004, IBM bought out Daksh providing exit to founders and investors.
Raising money is one thing. But what is most important is how they built the business. From just two founders to thousands of people – cutting across various business units and lines, how they managed the startup chaos, how they balanced growth, profitability and people, there is invaluable learning from the experiences of Aggarwal and Gupta. That is what we will try to take away through this fireside chat.
So don't miss this session, which will start at sharp 9.00 AM to 10 AM.
Besides the fireside chat, we have various panel discussions, entrepreneur sessions and workshops throughout the day, and our highly successful format - Lounge – which is a one-on-one entrepreneur-investor speed interaction.
So who all are speaking at the conference?
Bejul Somaia - angel investor (day job: Managing Director, Lightspeed Venture Partners). Somaia is an active angel investor with his personal investments such as AskLaila and the Great Indian Restaurant Company. Before he moved to India, he was co-founder and principal investor of Open List, a US-based vertical web-search company (acquired by Marchex, Inc.). 
Sasha Mirchandani - angel investor (day job, Managing Director, BRV India and Head of Corporate Affairs at Deeya Energy). He co-founded Mumbai Angels, and has made close to a dozen angel investments such as inMobi, Netelixir and Madhouse.
Sunil Kalra - angel investor (day job: Founder, Innoveda Biological Solutions Pvt. Ltd). His most recent investment has been Buytheprice.com, an innovative e-commerce company. He has also backed Taxspanner.com. Always open to great ideas.
Sanjay Bansal - angel investor (day job: Managing Director, Ambit Corporate Finance). Recently backed Taxspanner.com. A top deal maker, he is always on the lookout for great business ideas and startups.
Mukund Mohan - angel investor (day job: Founder, Buzzgain). Is an entrepreneur and also an angel investor, which will help explain both sides of the story. He is going to share his tips on how to become a good angel investor, and of course,  a good entrepreneur.
Rehan Yar Khan - angel investor (day job: Founder Flora2000 Inc). Entrepreneur and angel investor. He set up a luxury flower retailer, first targeted at US markets, and now India too. Currently making early stage investments. Recent deals include Buytheprice.com and Druva Software.
We will have many more angels and seed investors joining us as speakers and participants. 
Besides, we have early stage entrepreneurs who have raised capital from angels / VCs, and startup incubators, who will share their lessons.
Sameer Guglani - raised angel money for his startup Madhouse, now a startup incubator at The Morpheus. He will talk about if you really need to raise money. It's more prudent to generate buzz with your success and traction than you chase investors. Let the investors come to you. He will also talk about the lessons learnt from the Madhouse Media experience.
Harpreet S Grover - raised angel money in two micro rounds, and then an institutional round from Ojas Ventures for his startup Cocubes. 
We will have many more entrepreneurs and startup gurus joining to share their lessons.
Watch for our updates regularly. Meanwhile, you can view agenda, speaker details and also register for the event at . We have a special 30% off till January 03, and 15% off till January 10.