Credit: Shah Junaid/VCCircle
Brighter corporate earnings outlook and stability in equity markets are the key factors to improve sentiment for initial public offerings in India, according to a survey of private equity firms by consulting firm EY.
Almost 86% of the PE respondents in the survey pointed out earnings outlook and stable markets as the top reasons for improving IPO sentiment, EY's IPO Readiness survey showed. More than 60 PE and non-PE firms in the country took part in the survey.
About 86% of the PE respondents also felt that cash flow and return on equity were the most important financial factors while evaluating an IPO. Brand strength, market position and corporate governance practices are the key non-financial indicators for a company going for an IPO.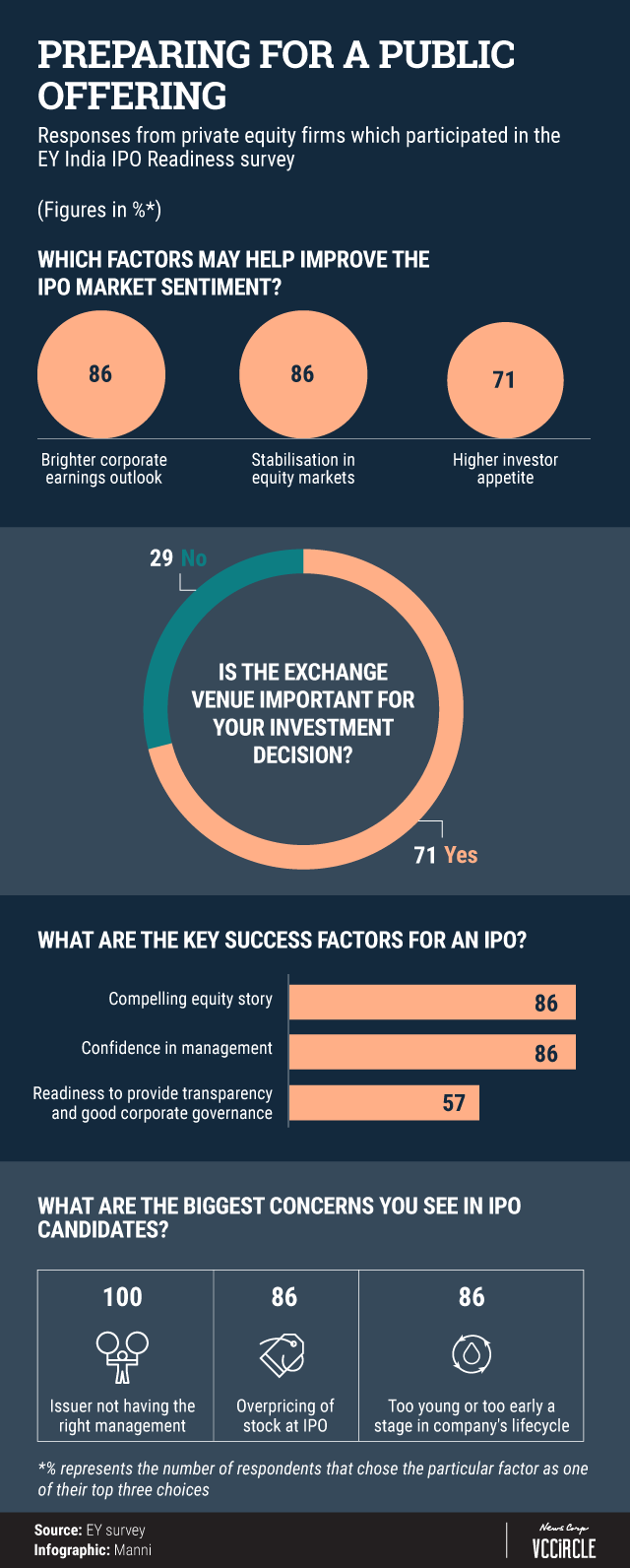 Close to 86% of the PE respondents said that the main issues faced by companies listing overseas are complaints about corporate governance and lack of compelling reasons for foreign listing.
"The IPO ecosystem is evolving at a rapid pace in India with several companies looking to list within 2018. Financial sector, infrastructure and consumer companies with strong growth continue to be favourable for increased IPO activity," said Sandip Khetan, partner and national leader of financial accounting advisory services at EY India.
Khetan said the Securities and Exchange Board of India's recent announcement of reducing the number of years of financial information from five to three years will provide an impetus to IPO activity.
Vish Dhingra, partner of financial accounting advisory services at EY India, said the survey indicates that good-quality companies, attractive pricing and right timing are the key factors for a successful IPO.
"The outlook for the rest of 2018 looks positive, compelled by somewhat stable equity markets and sound corporate earnings," he said.
Meanwhile, in a separate M&A survey by EY, 64% of the respondents mentioned that they have either failed to complete or canceled a planned acquisition in the past 12 months. About 47% of them cited competition from other buyers and disagreement on price or valuation as the main reasons for cancelling the deals.
The survey said that competition is mainly coming from PE funds and that this could create more challenges for corporate buyers as global PE players sit on record dry powder, or money they haven't yet deployed.
"Private equity firms with massive amounts of dry powder, globally, are now keenly looking at India for investment opportunities both in the growth capital as well as in the buyout space," said Ajay Arora, partner and leader of lead advisory at EY.