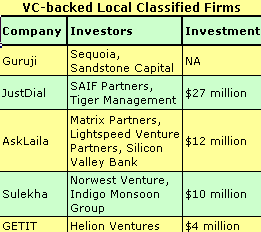 The local classifieds space continues to attract investment. Venture capital fund Helion Venture Partners has announced an investment of Rs 20 crore in GETIT Infoservices (P) Ltd. Delhi-based GETIT is a producer of yellow pages and directories in India, and has also ventured into digital offerings in the local search and classifieds space.
In December, internet giant Yahoo acquired a 30% stake in Chennai-based Network Management Co. Pvt. Ltd (Inmac), which owns the telephone-based directory search service Call Ezee. The leaders in this space are JustDial and Infomedia Group's Yellow Pages, while there are newer entrants like AskLaila of Four Interactive and Guruji.com.
The local information and classifieds space is well-funded now with SAIF Partners and Tiger Funds backing JustDial, Sequoia Capital backing Guruji and TV18 Group buying out Infomedia Group.
Though GETIT primarily has a print presence, it is now also offering digital services. According to the release, it currently publishes yellow pages, buying guides and business directories in over 35 cities. GETIT's services are also available online, on WAP and through its 24x7 telephone information services across India. Rahul Chandra, Director at Helion Venture, will be joining the board of GETIT.
Chandra said in a release: "Helion is very interested in this market and our investment will be directed towards expanding GETIT's service offerings across multi-access channels."
GETIT Infoservices was established in 1986 and claims to bring out over 2 million directories which include Yellow Pages / buying guides, industrial guides and business listing directories.