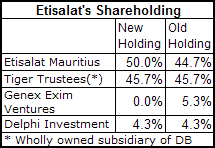 The sale of 5% stake in Etisalat DB (formerly Swan Telecom) by Genex Exim (owned by promoters of Middle-East based ETA Ascon Group) to Etisalat appears to have been done at par value.
Genex had acquired the shares for Rs 380 crore in December '08 and has reportedly sold it to Etisalat (UAE's telecom operator) at the same value. The obvious question is why would Genex sell back the shares without making any profits?
There could be two possible justifications for such a deal where the investor has pitched in with money, understandably for an interim period, and has decided to exit without making any money on the face of it. One can argue that ETA Ascon is into realty business in Dubai and could have been hit badly in the realty meltdown in the state and is desperate for an exit. Or it can be said that the domestic telecom sector valuations have declined due to renewed tariff war and that explains the deal value.
Etisalat had picked up 44.73% stake in Swan Telecom in September 2008 for $900 million, valuing the company at Rs 9,058 crore and has now hiked it to 50% in a deal that values the firm at Rs 7,211 crore.
Etisalat DB Telecom P Ltd (formerly Swan Telecom) has license to operate in 15 telecom circles. It won licenses for 13 circles in Jan 2008 paying Rs 1,537 crore and acquired licenses in two other circles through Allianz Infratech P Ltd., now a wholly owned subsidiary of Etisalat DB Telecom P Ltd. It plans to roll out its services in the next quarter and is also likely to be a key participant in the auction process of 3G spectrum.
Swan Telecom, a new telecom player, had been in the scanner for its shareholding structure given auction of spectrum and controversy over the fees. It has changed its equity pattern since it was formed. Initially it was owned by Reliance Communications through Reliance Telecom and Tiger Traders Pvt Ltd. Subsequently RCom diluted its stake to Dynamix Balwas Infrastructure Pvt Ltd besides a Mauritius-based investment company Delphi Investments Pvt Ltd. Thereafter Etisalat announced plans to acquire 45% stake in Swan for $ 900 million in September last year. Dynamix Balwas, said to be a Mumbai-based property and hospitality group, owns about 45% currently.
Meanwhile, Etisalat is in negotiations with Agility (the Kuwaiti logistics company whose private equity arm Alcazar Capital controls 50% stake valued at $500 million in Iraqi operator Korek), to buy equity in Korek. Etisalat is also in the final round of negotiations for a telephone licence in Libya.