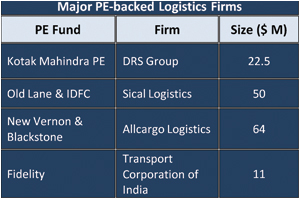 Kishore Biyani's Future Logistics, a part of his Future Group, is planning to raise $40 million through a private placement. The firm plans to invest these funds in automation, mechanisation and technology in setting up state of the warehouses across the country. According to a report, the firm plans to dilute around 15% stake for $40 million placement, valuing the firm at $257 million.
Future Logistics is also said to be in talks with strategic players such as Li and Fung Group, European logistics and distribution operator Logista, and Chinese logistics enterprises solutions provider CMST. Interestingly Future Group also manages a $350 million logistics PE fund called Indospace Logistics Partners.
Future Group entered into the logistics business last year investing Rs 400 crore. Future Logistics has sales of Rs150 crore in FY08, and is targeting Rs1,500 crore by FY11. Future also plans to start its own transportation business by end of this year.
Logistics space has attracted a lot of interest from the private equity players in India. Private equity giant Blackstone has invested in Allcargo Logistics, in which New Vernon has also invested. IDFC Private Equity and Old Lane have backed Delhi-based firm Sical Logistics. Some of the others include Transport Corporation of India and Kotak-backed DRS Logistics.
Some new players are also planning an entry into this segment whose market value is expected to be $60 billion. All of these are entering this sector to ride on the expected boom of the reatil sector in India, which itself is feeling a little slowdon now. Infrastructure major Gammon India has set up a logistics company and plans to invest Rs 300 crore. Deccan Aviation's Capt GR Gopinath is also planning to enter this segment and is planning to raise around $50 million, for which it has given the mandate to Edelweiss Capital.