The onset of a bear market has shrunk the funds raised through public issues by 63% to Rs 16,927 crore ($3.6 billion) compared to Rs 45,137 crore in 2007 calendar year, according to data compiled by Primee Database. This is the lowest mobilisation through public issues (IPOs and FPOs) since 2003. The number of issues also fell 64% to just 38 issues as against 106 issues last year.
This was despite the year seeing the biggest -ever IPO in India - from Reliance Power which raised Rs 10,123 crore (~$2.5 billion as per the exchange rate then), and accounted for 60% of the year's total fund mobilisation. The year saw only 2 issues of over Rs 1,000 crore each compared to 6 such issues in the preceding year. 
As many as 22 of the 38 issues were of less than Rs 100 crore, of which as many as 14 were of less than Rs 50 crore. But due to the Reliance Power IPO, the average size of public issue increased to Rs 445 crore in 2008 from Rs 426 crore in 2007.
The investors response to the issues which did go through was also very insipid. Only 6 of the 37 IPOs (16%) were oversubscribed more than 10 times, compared to 50 out of 101 IPOs (50%) in 2007. In fact, as many as 14 issues barely managed to get a one-time subscription. Worse still, 3 IPOs had to be cancelled because of lack of response, including the Rs 5,436 crore issue of Emaar MGF and the Rs 564 crore issue of Wockhardt Hospitals.
2008 saw as many as 37 companies, planning to collectively raise Rs 29,164 crore, allowing their approvals to lapse in the 90-day period( after getting Sebi nod) because of adverse market conditions. This included some big names like Reliance Infratel (Rs 6,000 crore~$1.27 billion), Adani Power (Rs 5,630 crore ~ $1.2 billion), Jaiprakash Power Ventures (Rs 4,000 crore) and Future Ventures (Rs 2,660).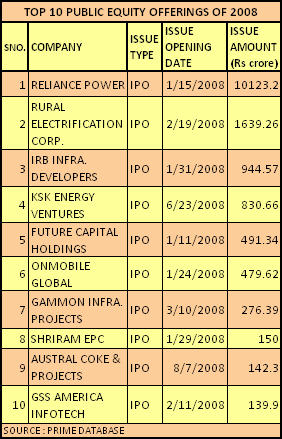 Unlike the preceding year which had seen the real estate sector cornering 33% or one third of the total mobilisation, this sector had only a 7% share in 2008. 2008 was dominated by the power sector, which through 2 issues, cornered 65% share at Rs 10,954 crore which was raised through Reliance Power and REC. Among other sectors, banking had a 10% share at Rs 1,639 crore.
Between different types of public issues, IPOs clearly dominated 2008 with 37 issues collectively mobilising over 99% of the total amount at Rs 16,904 crore. Butt this was down from Rs 34,179 crore raised through IPOs in 2007. FPOs was made by only 1 listed company in 2008, raising Rs 23 crore, down from 6 such issues last year which had raised Rs 10,962 crore.
Bookbuilding issues continued to dominate. Of the 38 issues, 33 issues (87%) were made through this route, collectively mobilising over 99% of the year's amount.
At the same time there was a continued dominance of fresh capital, which typically gets invested into productive assets as against offers for sale where the proceeds goes to the seller- promoters, funds and other investors- and not to the company. Fresh capital took a 94% share at Rs 15,941 crore, though down by 63% from Rs 43,065 crore in the previous year. Offers for sale raised only Rs 986 crore in 2008, compared to Rs 2,077 crore in 2007.