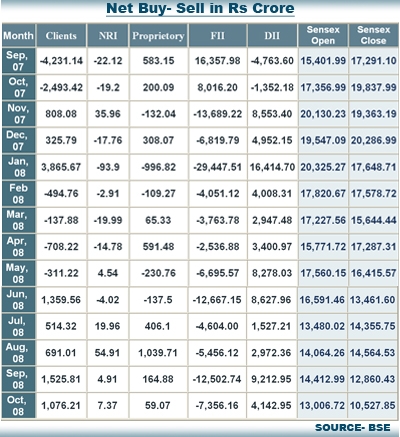 Foreign institutional investors (FIIs), who have played second fiddle to domestic non-institutional investors in recent times with respect to overall trading activity, have emerged as the most significant factor in the Indian stock market since the latest round of financial crises. VCCircle study shows that over the last two months (September 1–October 10), FII trading activity has overtaken that of retail investors and high networth investors (HNIs).
Interestingly, the last time this happened over the last two and half years was during March 2007, when the market witnessed a sharp correction.
Even as they have been seen as the movers and shakers of Indian stock market, FIIs have actually been the second largest investor category in terms of trading turnover. A bigger share of the total pie is accounted by a category termed as 'clients' by the BSE which would include retail investors and HNIs, among others.
However, FIIs largely invest in liquid stocks and tend to have greater exposure in large and mid cap stocks which tend to move benchmark indices and reflects in overall market direction.
FIIs have largely accounted for about one third of overall trading turnover at BSE and NSE. But since September'08 their share has shot up to 40%, while that of retail and HNIs has shrunk to 30-35% from an average of 40-45%. Significantly, domestic institutional investors (DIIs) which would include the likes of mutual funds etc have also picked up in trading activity and their share has risen to around 15% from around 10-12% in recent times.
If we scan the net buy-sell position of various investor categories, an interesting picture emerges where FIIs and DIIs show inverse relationship. FIIs have been net sellers in India since November 2007, two months before the first round of financial crisis hit the global equity markets. In contrast, DIIs have turned consistent net buyers since November last year. Incidentally, in September-October 2007 when FIIs were net buyers DIIs were actually net sellers.
In absolute value terms, FIIs have been net sellers to the tune of Rs 85,000 crore since September 2007. As against buy trades worth Rs 9.45 lakh crore since September'07, they have sold shares worth Rs 10.28 lakh crore. During the same period DIIs have been net buyers of shares worth Rs 69,000 crore.
Non institutional domestic investors have had a mixed trend with respect to their net buy-sell positions in the market. While they were net sellers in September-October'07 along with DIIs when FIIs were pumping in money, they were net buyers between November and January. Infact in January when the markets crashed they pumped in close to $1 billion. They turned net sellers for the next four months and have been net buyers since June this year, bringing in anywhere between Rs 500 crore to 1,500 crore each month.