GoJavas, a logistics services provider to India's top e-commerce companies, is likely to retain its warehousing unit GoFill after a possible buy-out by Delhi-based inter-city courier service operator Pigeon Express Pvt. Ltd, two people aware about the development told VCCircle.
On Wednesday VCCircle reported that Quickdel Logistics Pvt. Ltd that runs GoJavas is in advanced talks for a partial buy-out by Pigeon Express. However, the financial details of the deal could not be ascertained.
The Gurgaon-based logistics startup is likely to retain its fulfilment services business, which includes warehousing, storage, packaging and inventory, operated under the GoFill banner. Pigeon Express is likely to buy only the flagship business of GoJavas.
Pigeon Express, which was founded in 2004, is an intercity logistics service provider with 135 delivery centres across India and works with the country's leading e-commerce companies.
GoJavas' shipments to Uttar Pradesh and Uttrakhand have already been taken care by Pigeon Express, said one of the persons quoted above.
GoJavas has been in the doldrums for the several months and had suspended operations since August 2. It found itself in a tight spot after allegations of financial irregularities from the time when it was part of online fashion retailer Jabong emerged. The news came around the time when Snapdeal, which already owns 42% stake in the company, was trying to acquire GoJavas. The deal didn't materialise on account of differences between the two firms over valuation.
With two of its big clients—Snapdeal and Jabong—gone, and some top-level exits along with the allegations of fraud, GoJavas fell off track and was soon facing a closure. In this scenario, the possible sale to Pigeon Express seems like a distress call.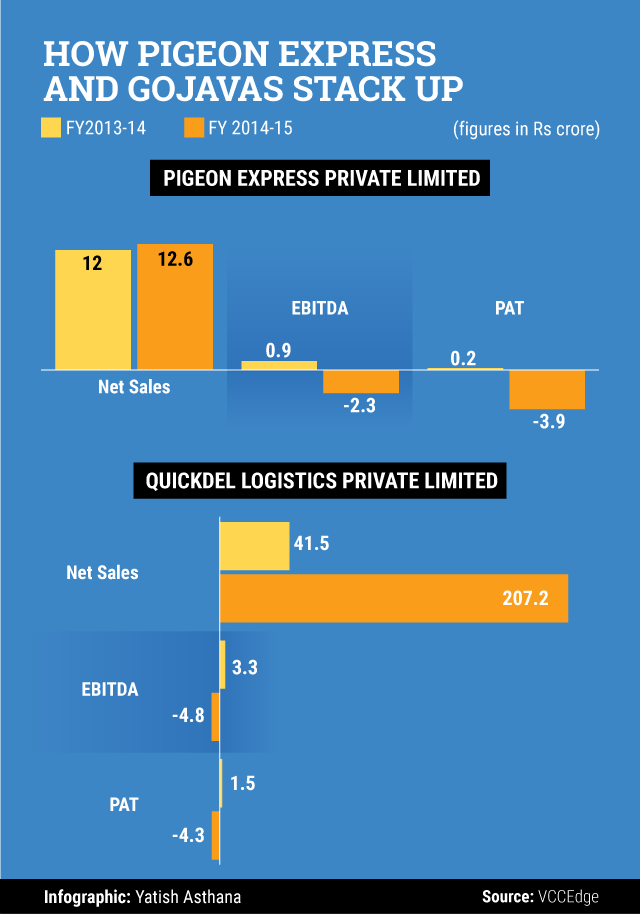 However, the warehousing business which contains the assets of GoJavas will remain outside of the deal with Pigeon Express. Pigeon Express will be taking over the flagship business of GoJavas—it will be essentially acquiring contracts that latter is already servicing along with delivery boys.
Pigeon Express itself reported losses for FY2014-15, according to VCCEdge, the data research platform of VCCircle. Also for FY2013-14 and 2014-15, the company's revenues were around Rs 12 crore, much lower compared with GoJavas' revenues during the same period.