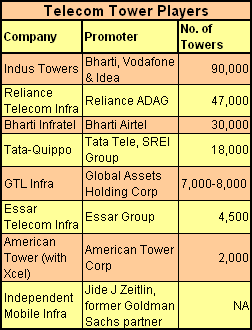 The wave of consolidation certainly seem to be hitting the telecom tower and infrastructure space hard and fast. Just a day after American Tower Corporation announced acquisition of Xcel Telecom, Essar Telecom Infrastructure is said to be in talks for a merger with Tata-Quippo tower company, reports Economic Times. Essar Telecom Infrastructure is one of the leading independent telecom tower firm with 4,500 towers.
Essar Telecom Infra was close to merging with largest stand-alone tower company GTL Infrastructure last year, but the deal fell through. GTL Infrastructure Ltd has around 7,000-8,000 towers. Many of the smaller players are now finding it hard to expand due to lack of funds in the market which is leading to consolidation.
The valuation of towers has also corrected significantly, which is helping the dealmaking process in this space. The valuation of each tower according to the recent deals is Rs 45-50 lakh, as compared to Rs 1.6- 2 crore in deals struck in 2007-08 (such as in Reliance Infratel and Bharti Infratel). The cost of setting up a tower is at around Rs 25-30 lakh. Also the cost of steel, the main raw material used by towers, has fallen to more than half since last year.
Quipo Telecom Infrastructure Ltd and Tata Tele's tower arm announced their merger earlier this year. The deal involved Quippo picking up a 49% stake in Wireless Tata Telecom Infrastructure Ltd (WTTI) for Rs 2,400 crore. The merged entity had an enterprise valuation of $2.6 billion with 18,000 towers, valuing each tower at more than Rs 72 lakh. The combined entity is managed by Quippo as an independent firm and has already signed up clients like Telenor, Aircel, Tata GSM, Swan-Etisalat and Systema.
Xcel Telecom, which owns and operates around 1,700 towers, is being acquired by Nasdaq-listed American Tower Corporation at enterprise valuation of more than Rs 800-850 crore. The deal has been at stuck at valuation of about Rs 47 lakh per tower.
Major players in the telecom tower space are Indus Towers (a JV of Bharti, Vodafone and Idea with over 90,000 towers), Reliance Telecom Infrastructure (47,000 towers) and Bharti Infratel (30,000 towers).