Overall, railway budget 2016 is a reflection of the government's commitment and a step forward to transform the railways as proposed in its five-year roadmap (2015-19). With a total outlay of Rs1.21 trillion for FY2016-17, the budget is high on increased expenditure and focused on the following prominent thrust areas.
Improvement in railway amenities
Increased focus on improving passenger amenities such as cleanliness, punctuality, food, ease of ticket booking, on-board facilities and security are the expected and desirable steps towards achieving passenger satisfaction. The positive response to Swachh Rail Swachh Bharat mission is well extended across stations and trains. The real challenge could be an efficient monitoring mechanism for its effective implementation.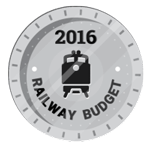 Strengthening railway infrastructure
Rail freight revenue, accounting for at least two-third of railways' total revenue, is an important contributor to the national economy. The railway budget has taken due care to strengthen the rail freight segment. Some of the notable announcements include time-tabled freight train operation targeted by 2020, allowing part loading in non-peak hours, rationalisation of freight tariff and expansion of freight basket. These initiatives are likely to provide much needed boost to rail freight capacity and value-added services.
The budget has also recognized the importance of connectivity to ports and key logistic hubs. The new railway lines connecting Nargol, Hazira, Jaigarh, Paradip and Dighi ports will improve the port connectivity significantly and is likely to provide the much-needed boost to international freight movement through ports.
Setting up of two new locomotive factories under the Make in India initiative is likely to strengthen the manufacturing base of the railways. Augmenting suburban rail network in major metro cities and broad gauge connectivity to north-eastern states and Jammu and Kashmir will result in better intercity connectivity.
The budget has highlighted that the progress of eastern and western dedicated freight corridor project is in advance stage and is likely to be operational by 2019-20. In addition, three new dedicated freight corridors connecting Delhi-Chennai, Kharagpur-Mumbai and Kharagpur-Vijawada have been announced in this budget.
Higher operational efficiency
Procurement of power directly at competitive rates, using its status as deemed distribution licensee, is a notable step to reduce annual operating expenses.
All procurement of goods and services through e-portal would bring more transparency and competitiveness to railway operations.
Indian Railways is the largest employer among public sector undertakings. The initiative of developing National Academy of Indian Railways, Vadodara, as the first railway university is a welcome move and is likely to help in development of trained manpower and retraining of existing staff, especially for Indian Railways.
Attracting alternate means of funds
Budget has reiterated the need of increased investments through an alternate means of financing and emphasised on building partnership with various stakeholders.
The emphasis on forming joint venture with state governments for developing railway projects and exploring an alternate means of project funding through multilateral and bilateral agencies is a welcome move.
It is encouraging that the budget has recognized the importance of private sector participation and plans to take forward actionable railway projects on public private participation.
Exploring all possible avenues such as redevelopment of 400 railway stations, developing model commercial structure to tap the advertising potential, land monetisation are correct steps in exploring commercial potential to generate additional revenue.
Way forward
The budget aims at improvement in infrastructure, ensuring consumer amenities, and encouraging private sector participation. It is now critical to ensure that the implementation take place in the same manners as envisaged in this budget.
Abhaya Agarwal is partner and public private partnership leader at EY India.