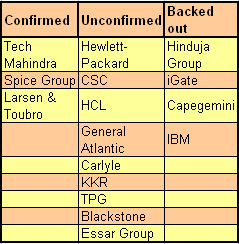 With Tech Mahindra officially announcing its interest in Satyam Computer Services, the list of likely bidders for buying a majority stake in the troubled IT company is getting longer everyday. Tech Mahindra has announced today in a BSE filing that it has registered its interest in participating in the bidding process. Today is the last date for submitting Expressions of Interest (EOIs). The company board will meet tomorrow to scrutinise the EOIs submitted by the potential bidders.
The Hinduja Group, which was also a likely bidder for a majority stake in Satyam, today announced that it is not bidding for the stake in Satyam.
Till now more than a dozen names have come up as contenders for the Hyderabad-based IT company. However, out of these firms only three have confirmed their interest in picking a majority stake in Satyam. Larsen and Toubro (L&T), BK Modi's Spice group and Tech Mahindra have reportedly submnitted EOIs today. 
L&T had recently hiked its stake in Satyam from 4% to 12%, becoming the largest stake holder in the IT firm. Spice Group chairman, BK Modi has said that the group is ready to invest $408 million in Satyam, and would like a preferential issue route to acquire 51% stake in the firm.
Global IT firms Hewlett-Packard (HP) and Computer Sciences Corporation (CSC) are also reportedly considering the possibilities of acquiring a majority stake in Satyam. Another Gobal IT major IBM, which has around $12 billion in cash, was also understood to have shown an interest in acquiring the beleaguered IT firm but has now backed out.
Capegemini, Europe based computer consultancy firm, which was said to have shown interest in buying a stake in Satyam, has said that it has no interest in the fraud hit IT firm. HCL, which had acquired SAP firm Axon last year, was also said to have been keen on acquiring a stake in Satyam.
Recent reports also suggest that private equity firm General Atlantic Partners is also likely to bid for a majority stake in Satyam. The speculation is based on General Atlantic's track record of investing heavily in India in the IT sector.
Its IT investments in India include Genpact, Patni Computers and Hexaware. There are also possibilities of General Atlantic tying up with Patni to acquire the stake just like Tech Mahinrda's discussions with private equity funds to mount a joint bid.
It was earlier believed that the Satyam board would be interested in selling a majority stake in the firm to only IT players. Since, the board's recent announcements have not even touched upon any such points, it has led to speculation about General Atlantic's interest in acquiring a majority stake in the fraud hit IT giant.
Other private equity names that have come up in relation to the Satyam bidding are KKR, TPG, Blackstone and the Carlyle Group.Fidelity, which had recently hiked its stake in Satyam to 7.66% is now the second largest share holder in the firm.
Other names that have been linked to the bid include iGate and the Essar Group. iGate, had last month, announced that it would not bid for Satyam. The lack of clarity about the extent of Satyam's liabilities may discourage the potential buyers.