Search giant Google became the latest entrant into India's burgeoning digital payments market on Monday, launching its own Unified Payment Interface (UPI)-based mobile payments app 'Tez'.
Over the last one year, the payments space in India has become crowded, to put it mildly. A bevy of players—from social networks to messaging apps to cab aggregators to e-tailers—have thrown their hat into the ring. In fact, the world's biggest messaging platform, WhatsApp Inc. has got approval from the National Payments Corporation of India (NPCI) to enable in-app payments via UPI. Meanwhile, WhatsApp's parent Facebook is also looking to enable UPI-enabled payment on its platforms. It also plans to integrate peer-to-peer payments into its messenger service.
Then, there are household names like caller identification app Truecaller jostling for a slice of the pie, even as the deep-pocketed smartphone maker Apple Inc. looks to ensure it doesn't miss the bus.
On the other end of the spectrum are local digital wallets like Paytm, MobiKwik, FreeCharge and PhonePe. In cognisance of UPI's rising popularity, most of them have integrated the interface into their apps.
Given the surfeit of options, how is the space likely to shape up? While players like Google Tez and WhatsApp have no e-commerce construct around them, they definitely boast of the highest user base. Will that be enough to shake up the system and loosen the stronghold of Paytm, the poster boy of India's payments industry and its leader by a margin?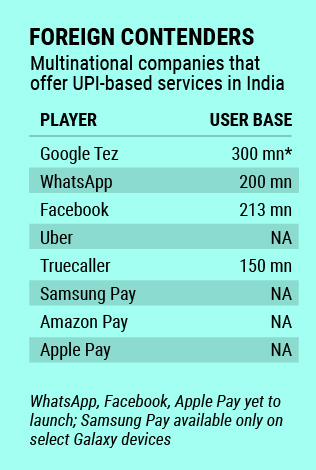 Vivek Belgavi, FinTech leader at PwC India, feels both WhatsApp and Google will have very different intentions than the rest of the players. "These companies look more from the customer engagement point of view... For them, data is king. Increasing engagement with customers while getting more data to create targeted profiles will be their intention."
And, over the years, Google has already done a lot of data accumulation. "That means using information about an individual's preferences, Tez can help businesses entice them with offers. It tries to address security concerns as well," says DD Mishra, research director at Gartner.
Google's progress will also depend on how fast it can build an ecosystem of partnerships around it, Mishra added.
For WhatsApp, it might prove an easier battle keeping in mind the sheer numbers and the app's stickiness.
Sanjay Khan Nagra, senior associate at law firm Khaitan & Co, says a lot of players have apps like Truecaller, but they use it only to check a number. "WhatsApp, on the other hand, keeps running on our smartphones most of the times. If they build in a UPI-based payment system, without a doubt it will be the most preferable mode of money transfer."
But will progress made by WhatsApp and Google mean deceleration for local players?
Belgavi doesn't see a threat for domestic players, mainly because the likes of Paytm have become more than just remittance companies. "Google and WhatsApp would largely play in the remittance area. Paytm does merchant acquisitions, and they have merchant solutions. They now have an e-commerce story as well... Besides, they are acquiring offline merchants. That's not the thing WhatsApp or Google would do."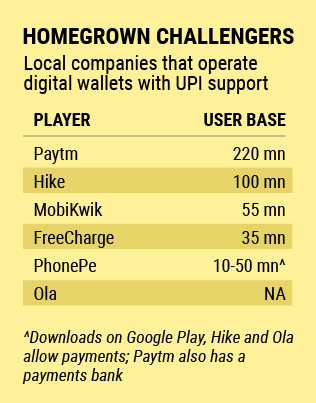 Customer engagement and merchant acquisition will be two clear segments of the market, he notes.
Nagra, however, feels that other payment option providers including wallets and credit card providers are already worried because of the UPI wave. They will have more reasons to worry if WhatsApp starts providing UPI services, he says.
Moreover, Caesar Sengupta, vice president at Next Billion Users, Google, also clarified that the search giant had no plans to apply for a wallet licence and Tez will, in fact, work with wallet providers.
Some experts feel that given the number of players in the space, consolidation is inevitable.
"Consolidation would surely happen as we have 50-plus players in the market already, too big a number. My estimate is there will be 3-5 odd players when the market matures... and there would be a lot of consolidation for sure," says Belgavi.
At the same time, the arrival of several players means heathy competition.
"Whoever makes life easier for people will get the most number of customers... It will also be good for smaller players as they will get acquired by bigger players, and investors who have backed smaller payment startups can expect good returns," Nagra said.
Regardless of how the contestants fare, one thing is for certain—UPI will emerge a clear winner.
Total UPI-based transactions hit a record 16.61 million in August, up from 11.44 million in the previous month, show data from the Reserve Bank of India. The value of transactions rose around 22% to Rs 4,127 crore in August from Rs 3,381 crore in the previous month.
Since December, UPI transaction volumes have risen over-seven-fold, the data show. Around 45% of total UPI transactions happen through the government's Bharat Interface for Money (BHIM) app, says NPCI.
"With WhatsApp and Google, UPI will shoot through he roof. Other payment modes will come down," concludes Nagra.