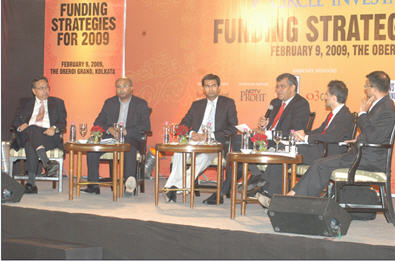 It was another successful event from VCCircle. The event - themed Funding Strategies for 2009 - held in The Oberoi Grand, Kolkata on February 9 attracted a record 200 delegates from all walks of life - entrepreneurs, industrialists, bankers, advisers and companies. What made the event special was that it was first of its kind in the city. Nineteen speakers (see the list ) - some of India's top fund managers, investment bankers and entrepreneurs - shared their experiences and outlook for private equity and venture capital funding for 2009 and beyond.
All PE fund managers are expecting less number of deals this year. The slowdown in deals started showing from the second half of 2008 only. Also since credit crunch - the PE funds have been facing draw-down challenges. Limited partners are rationalising their allocation to PE funds. "Funds raised during vintage year are already facing a slowdown," said Gopal Srinivasan, Managing Director, TVS Shriram Growth Fund.
One point of contention that will play itself out, though painfully in the distressed environment, would be valuations. Funds are expecting the promoters expectations to come down, and there is a sense that the valuations will come down further.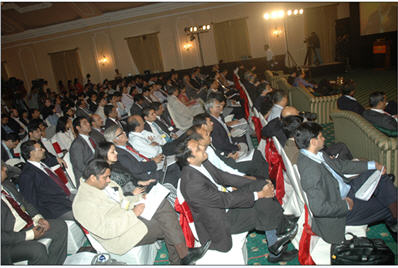 Shahdadpuri expects that there is more blood to be shed in the markets. So he will adopt a cautious wait and watch approach. Out of the $200m fund, he has invested $65m till now and are waiting for more quality assets from "distressed seller" to be available at cheaper valuations.
Taking the point on valuations further, the panelists discussed that the valuations need to be adjusted further as there still remains a huge gap between public market and private market valuations. Valuations went through the roof in 2005-06 and there is going to be a bottoming out, commented the investors.
"The solution is to try and come and out with a structure to bridge the expectation gap," George Thomas, Partner India Value Fund, said on valuation. The view was echoed by Gaurav Mathur, "There has been a fall in the benchmark valuations and this has made it very challenging. It takes longer to close the deals now."
Exits are no less challenging as the public issue markets have dried up. Strategic M&As are likely to see an increase if any. "Two years ago, exit was the last thing to be discussed. Now the potential routes of divestment are discussed more seriously," said Harsha Raghavan, Managing Director, Candover Advisors.
The private equity investors however agreed that a lot of family houses will shed their non- core assets and the year will see more of controlled transactions or perhaps, buyouts.
Gaurav Mathur stressed on the point that many businesses were not able to raise funds for their core operations and hence they were selling majority stakes in various other group companies to raise money for other businesses.
Gopal Srinivasan emphasised on treating family owned businesses differently from the professional businesses as the family businesses responded differently to the PE investments. Sectors like education, healthcare, speciality infrastructure are expected to see increased activity. The panelists agreed that this is the best time to grow portfolio companies by helping them "capturing market share" and "acquiring other companies".
There are tremendous acquisition opportunities and there is a lot more to be done now than the before. Amongst investment themes, there are opportunities that exist in the areas of speciality infrastructure, healthcare and particularly the businesses that ride on the domestic consumption story of India.
There will certainly be a shift to the quality of investments from quantity of investments, said  Gaurav Mathur, reflecting at the record number of PE transactions made during the euphoria.
(VCCircle will be releasing the videos of the conference at a nominal cost very soon).