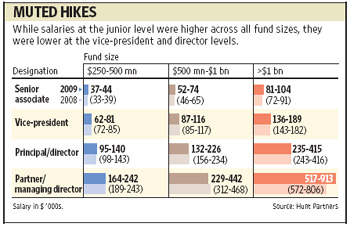 Salaries of top Indian private equity professionals -- who take home anywhere between Rs 25 lakh to Rs 4 crore a year -- have taken a knock this year as a result of a decline in deal flow and a lack of exits in 2008-09. And, it appears that the compensation hikes will continue to be muted in 2010 with investors pushing for more returns on their buck.
"The compensation for the VC/ PE industry has saturated," said Sunit Mehra, Managing Partner & Founder, Hunt Partners. Shalini Sethi, Chairperson & MD, Emploi Globale, a Bangalore-based recruitment firm focused on the private equity and investment banking industry, reflected the same sentiment: "Existing funds have rationalised annual bonuses and raises (many to nil). This has been done across funds."
According to a 2009 study of private equity compensation conducted by Hunt Partners, a recruitment firm focused on private equity and venture capital, there has been a fall in the compensation of PE professionals especially at the vice president and director level. They source, negotiate, and close transactions, monitor them and even sit on boards of portfolio companies.
Their seniors - managing directors/partners who make portfolio investment decisions and guide the firm's strategy– also could not get a hike in their pay owing to a slowdown in deals and absence of liquidity events (such as IPOs and strategic sales) in the last couple of years.
While most senior private equity pros took home around 10-15% less money than they did the previous year, their juniors - associates and senior associate level – fared a little better. Salaries at the junior level –engaged in analytical and research functions-- were higher across all funds and sizes (see table) as pay is a key talent retention tool in this segment.
No Big Bucks This Year
The compensation levels in the PE business predictably have a direct co-relation with deal flow. Indian private equity deals have drastically fallen in 2008-09 compared to the boom days of 2007. There were 433 PE deals worth $15 billion in 2007 compared to 470 deals worth $11.7 billion in 2008. There has been a 20% decline in value of deals. Besides, many new funds looking to set up office in India have put their plans on hold while firms such as Engelfield Capital and Babcock & Brown have shut down their India operations; Lehman Brothers merged its PE operations with that of Nomura, all of which have resulted in depressed hiring and salary hikes.
Industry recruiters VCCircle spoke to say salaries have rationalised across the board. "In 2010, I do see this cautious approach continuing as exits have got delayed and many funds may ask for extensions. So saving on compensation becomes the key to the General Partners' strategy," said Sethi.
There are also pressures and, in some cases, demands from limited partners (investors in funds) to moderate the excesses in pay. "Limited partners (LPs) are getting much tougher now on negotiating carried interest or carry (the gains from the fund over and above the investment) with their General Partners (the partners in funds)," said Shekhar Purohit, Principal, Asia-Pacific Leader for Executive Compensation and Corporate Governance, Hewitt Associates, an HR consulting firm.
Also, LPs are raising concerns over hurdle rate (minimum acceptable rate of return). LPs are telling GPs if they want 15-20% of the carry, then they need to deliver more than the traditional 8% return. While some LPs are demanding 10% hurdle rate, the preferred hurdle rate may go up to 9 or 9.5%. "There is certainly a pressure to perform at a higher hurdle rate and compensate for the additional incentive fee that PE funds are drawing," said Purohit.
Compensation math
Most private equity firms work on a 2/20 compensation model, where they get 2% of the funds under management as fee every year, and 20% of the profits as carry. Funds typically have a minimum guaranteed rate of returns of 8% (called hurdle rate), and the team will be eligible for carry only if the returns cross the hurdle rate.
The management fee – a fund with, say, $1 billion under management, will get $20 million every year as management fee - is used to pay salaries, meeting fund management and office expenses. The carry – which is usually several millions of dollars in the case of a high performing fund – will be distributed among partners and other senior professionals at the end of the term of the fund (about seven to 10 years).
The growth in management fee is dependent on whether the funds have been able to raise new funds. The fund raising environment has been very tough since last year, and only pedigreed funds have been able to meet their targets. Many firms have shelved their plans or are still on road to raise their second or third fund.
Also the salaries of the professionals are dependent on the size of the funds. The bigger the fund, the higher are the salaries. A partner at a $250-500 million fund may draw a maximum of $242,000 a year, while his counterparts at a fund of $500 million to $1 billion will get about $442,000 and at funds over $1 billion under management will get around $1 million or more. This difference percolates down to principal/director and to the associate levels.
Indian Top Grossers
Private equity firms are highly secretive and it's impossible to get a peek into their compensation structure. But the MDs of funds belonging to the listed Indian companies do not have the luxury of keeping it to themselves. According to the 2008-09 annual report of IL&FS Investment Managers (IIML), the listed private equity arm of IL&FS, its CEO and MD Archana Hingorani drew Rs 4.17 crore in FY09 including incentives. Even though the private equity environment has been tough, Hingorani's pay is likely to go up this year as the firm raised an $895 million real estate fund last year, taking its total funds under management to $2.8 billion.
Luis Miranda, CEO of IDFC Private Equity, the PE arm of IDFC, took home Rs 2.8 crore last year, according to IDFC annual report. IDFC PE, which has investments in India's premier infrastructure projects such as Delhi, Hyderabad and Bangalore airports, manages $1.3 billion. Renuka Ramnath, who quit as the managing director and CEO of ICICI Venture in April this year, drew a check of around Rs 1.78 crore in FY09. In her nine-year tenure at the firm, Ramnath has invested over Rs 800 crore and is believed to have returned close to Rs 1,500 crore to the parent company ICICI Bank and about Rs 1,800 crore to the firm's LPs.
However, the salaries of these executives (who work for firms sponsored by Indian banks and institutions) would be lower than their counterparts in stand alone private equity firms such as KKR, Blackstone, ChrysCapital and General Atlantic, who could be earning between $1 million and $2 million a year including base pay and bonuses. The former also gets less carry as their sponsors take a major share (about 60%) of the carry distributed.
(With inputs from Madhav A Chanchani)