The initial public offering of Cochin Shipyard Ltd was covered 76 times on the final day of the issue on Thursday as investors thronged to buy shares of the state-owned shipbuilder.
The offering of 33.98 million shares received bids for about 2.58 billion shares, stock-exchange data showed. This translates into bids worth Rs 1.15 trillion ($17.5 billion), the third-highest for a state-run company's IPO.
Coal India Ltd holds the record for receiving the highest bids; its Rs 15,200-crore IPO in October 2010 had got bids worth Rs 2.31 trillion. The Rs 2,985-crore IPO of Power Grid Corporation of India Ltd, at the peak of a bull run in September 2007, had received bids worth Rs 1.93 trillion.
Earlier this year, state-run housing financier Hudco Ltd had received bids worth Rs 97,000 crore for its IPO that was subscribed nearly 80 times.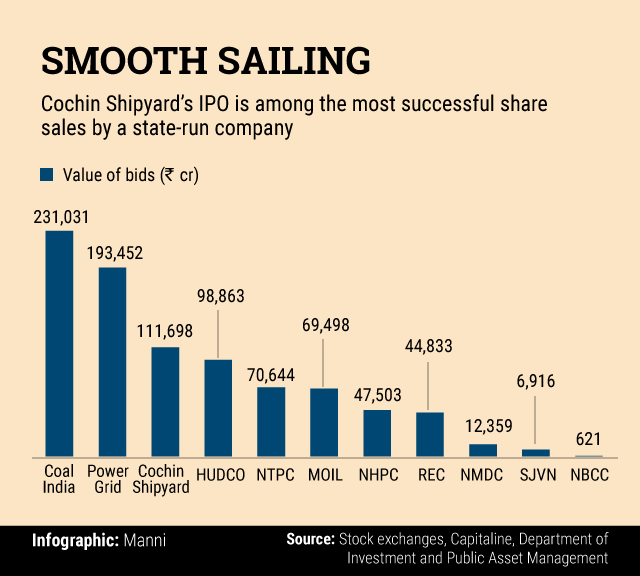 Cochin Shipyard is selling the shares in a price band of Rs 424-432 apiece. At the upper end of the band, the size of the IPO is Rs 1,468 crore ($230 million). The company will raise roughly Rs 980 crore via a fresh issue of 22.65 million shares while the government will mobilise the remaining by selling 11.32 million shares.
The shipbuilder's retail book was covered 8.25 times and the portion set aside for institutional buyers was covered 63.51 times. The part reserved for non-institutional investors, comprising wealthy individuals and corporate clients, was subscribed 289 times. Employees bid for 49% of the shares reserved for them.
The IPO was almost fully covered on day one on Tuesday and three times on Wednesday.
Cochin Shipyard sought a valuation of as much as Rs 5,872 crore ($912 million) through the IPO.
Overall, the IPO will result in a stake dilution of 25% on a post-issue basis. This will help the company comply with the Securities and Exchange Board of India's norm of 25% minimum public float.
Cochin Shipyard had filed its draft prospectus for the IPO on 24 March and received regulatory approval on 20 April.
Its IPO is part of a record disinvestment target set for the forthcoming financial year by finance minister Arun Jaitley. The government is aiming to raise a record Rs 72,500 crore through capital receipts that comprise minority sales and strategic disinvestments as well as listing of state-owned companies.
On Wednesday, the Centre also initiated the sale of a minority stake in Hindustan Copper Ltd. The two-day offering, which ended on Thursday, will fetch the government about Rs 500-520 crore.
In the first three months of this fiscal year, the government has mobilised Rs 6,700 crore by selling minority stakes in half-a-dozen companies. Last month, it sold a 2.6% stake in engineering giant Larsen & Toubro Ltd—held via Specified Undertaking of The Unit Trust of India—for Rs 4,158 crore. It also offloaded a 10% stake via Hudco's IPO.