Ashish Dhawan's ChrysCapital seems to be turning into a foreign institutional investor or a hedge fund rather than a private equity fund. Probably there are too many public investment opportunities that Dhawan has no choice but to keep ploughing money into the listed companies. The valuations of listed companies have tempered compared to that of the private companies - so why risk the capital there?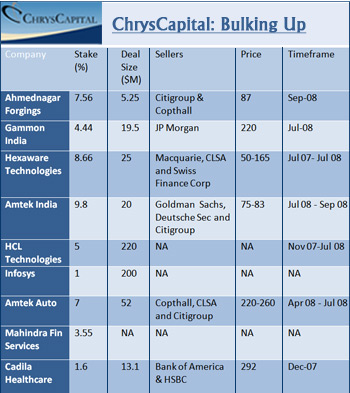 Since last year the firm has picked up stakes in as many as nine listed companies through bulk deals on the Bombay Stock Exchange and National Stock Exchange, according to the research by VCCircle. All the stakes have been picked up through two entities of ChrysCapital, which are Warhol Ltd and Dali Ltd (both named after the pop artist and the painter respectively; remember Chryscap also owns Van Gogh Ltd, named after famous artist, which picked up stake in Shriram Group). Both Warhol and Dali are based out of Mauritius and are registered with SEBI as FIIs.The Indian private equity major, which started operations in 1999, seems to have invested nearly half of its latest $1.25 billion fund on these deals.
Most recently, the fund has picked up a 7.56% stake in Ahmednagar Forgings Ltd in a single bulk deal on BSE from Citigroup and Copthall's Mauritius entities. The deal was struck at Rs 87 per share, taking the total value of the deal to Rs 23 crore ($5.25 million). The stake in Ahmednagar seems to be a part of a bigger bet for ChrysCapital. Amtek Auto is merging the with Ahmednagar, Amtek India and three other entities with itself. ChrysCapital also has stakes in Amtek India, Amtek Auto and Ahmednagar. So it's a bet on the group, promoted by Arvind Dham in Delhi.
ChrysCapital has also picked up nearly a 4.5% stake in construction firm Gammon India for around Rs 86 crore ($19.5 million). The deal in Gammon India is interesting as ChrysCapital had sold its stake in the company in 2006 for Rs 430 crore ($95 million), making 4.75 times its money in 15 months then. ChrysCapital has definitely learned the art of perfection in PIPE deals, as it can be seen in Gammon. The share price of Gammon plunged from from Rs 411 in June 08 to Rs 213 in July 08. ChrysCapital saw the opportunity and picked up the shares in a single block deal on July 11.
When contacted, ChryCapital refused to talk about its deals. "As a matter of corporate policy, we don't comment on market or individual speculations about public investments attributed to ChrysCapital," said Sanjiv Kaul, Managing Director at ChrysCapital.
ChrysCapital has built up its position in IT bellwethers such as Infosys and HCL technologies as it has been reported earlier. But it has also acquired an 8.6% stake in Hexaware Technologies. The stake in Hexaware has been picked up over a period of one year in three block deals.
ChrysCapital picked up nearly a third of it current stake in a block deal in July 2007 at a high price of Rs 165 per share. Then in June and July this year ChrysCapital picked rest of the stake through two block deals, at Rs 54.25 per share and Rs 50.15 per share, respectively. Currently the shares of Hexaware are trading at a low of Rs 34. Overall, the stake in Hexaware has been bought for $25 million.
Dhawan is unlikely to be in despair since he has faced such a scenario in Mphasis when the share prices fell drastically low compared to his acquisition price. Finally, Mphasis bounced back and Dhawan made his money.
The stake in HCL is likely to have been built up since November last year. ChrysCapital has acquired a total of 5% stake for more than $220 million. Its stake in Infosys is expected to be less than 1%, which has been picked for around $200 million.
While it has picked up stake in steel forgings and auto components manufacturer Ahmednagar Forgings, ChrysCapital has also built up significant stake in both Amtek India and Amtek Auto. Amtek Auto is planning a merger of its five units with itself. The merged entity is pipped to be India's largest auto ancillary company. The combined entity is expected to have annual sales of nearly $1.5 billion.
Earlier this month, ChrysCapital upped its stake in Amtek India by 4%, making the total stake at 9.8%.ChrysCap's private equity portfolio also includes several companies engaged in the aito component business. One of them is Balakrishna Industries, a niche low-cost tyre manufacturer, and another is JMT Auto, a auto component manufacturer focused on gears and other transmission components.
The fund also seems to be focusing on auto finance sector. Chryscap has picked up stake in Mahindra & Mahindra Financial Services. It has around 3.5% stake in the company. Although it had a pre-IPO stake in Mahindra Finance, it has built up its stake bulk deals. In this
segment ChrysCapital also has two other companies in its PE portfolio - Bajaj Auto Finance and Shriram Group.
In December last year ChryCapital picked up a 1.6% in drugmaker Cadila Healthcare through a bulk deal. In this deal ChryCap picked up the stake from Bank of America and HSBC at Rs 292, taking the total deal value to be somewhere around Rs 55 crore ($13 million). ChrysCap has
two pharmaceutical companies in its private equity portfolio - Mankind Pharma and Intas.
In short, ChrysCapital is bulking up with a large portfolio of public companies.