China is no longer happy flooding cheap toys and gadgets into the Indian market. Chinese investors are now making strategic investments into Indian companies and even buying out a few.
Since June this year, Chinese companies have pumped in almost twice the money they had invested in the country in the last decade and a half. In the last three months, the Chinese have invested more than $2.3 billion in four Indian companies that include ad tech startup Media.net, drug-maker Gland Pharma and electrical equipment maker Diamond Power Infrastructure Ltd.
Media.net, incidentally, was one of the largest deals in the advertising technology sector in which a Chinese consortium led by Beijing Miteno Communication Technology bought out the startup floated by brothers Divyank and Bhavin Turakhia for $900 million.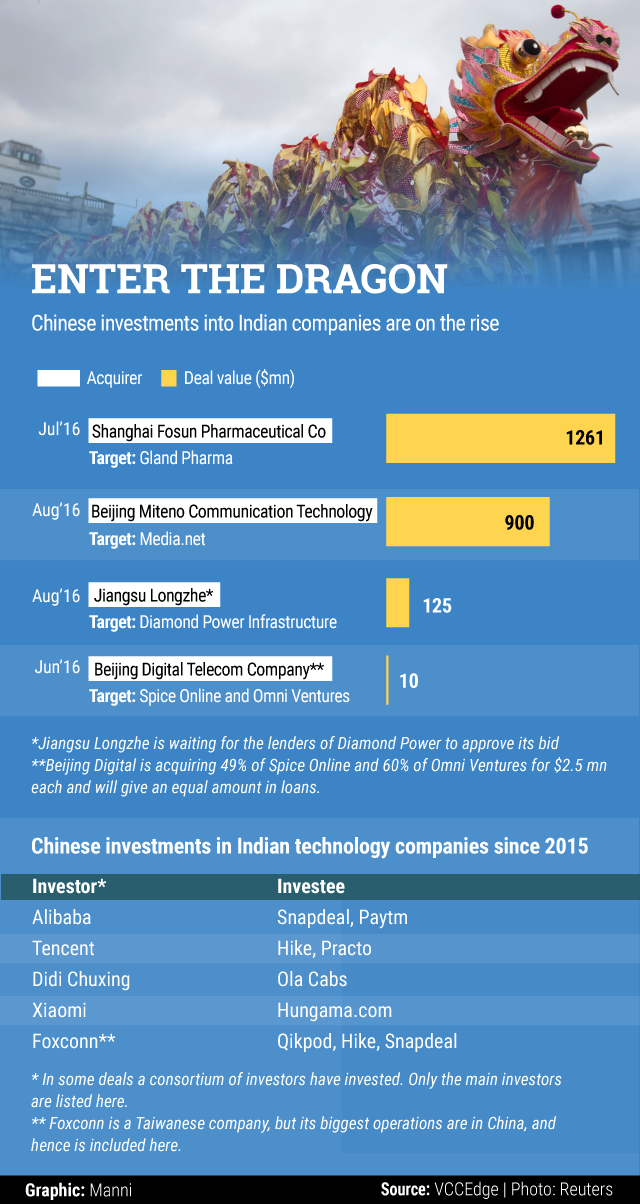 The recent trend of Chinese businesses making serious investments into Indian companies began in 2015, when e-commerce giant Alibaba made a handful of investments in Indian unicorns such as Snapdeal and Paytm. Alibaba, which invested $680 million in Paytm last year, now, owns about 40% in the online payments company along with its financial arm Ant Financial Services Group.
In Snapdeal, Alibaba, Japan's Softbank and Taiwanese Foxconn have invested $500 million over a few rounds. In September 2015, around the same time when the Alibaba-Paytm deal happened, Chinese ride-hailing company Didi Chuxing, too, had made a strategic investment in cab aggregator Ola Cabs, which helped Ola take on arch rival Uber in India. Last month, however, Uber sold its Chinese business to Didi and exited the country, choosing instead to focus on the battle with Ola in India.
In July this year, leading Chinese pharma company Shanghai Fosun Pharmaceuticals acquired Indian injectables manufacturer Gland Pharma for $1.27 billion, making it the largest ever takeover by a Chinese company in India.
Then, in a funding round announced earlier this month, India-based messaging app Hike secured $175 million investment from WeChat's parent and one of China's largest internet companies Tencent, Foxconn and other investors.
The other notable Chinese investments in recent months include Tidfore Heavy Equipment's infusion of $150 million into steelmaker Uttam Galva Metallics and Insurance giant AIA Group's $307 million investment into its life insurance joint-venture with Tata Sons, Tata AIA Life.
In May this year, Chinese government controlled Global Times, said that the country's investments into India had increased six folds between 2014 and 2015. According to a report in the Economic Times, the surge in investments from China happened as a result of India easing restrictions on Chinese companies and offering favorable tax rates and land rent policies for Chinese companies.
Ever since the Narendra Modi-led National Democratic Alliance government came to power in May 2014, it has sought to woo Chinese manufacturers to set shop in the country as part of its flagship 'Make in India' initiative, which aims to attract foreign money into the manufacturing sector.
Another reason that makes India attractive to Chinese investors is the relatively cheaper labor costs. In May last year, China Briefing, a business portal, noted that rising labor costs in China is making businesses look elsewhere in order to keep producing cheap goods at a mass level for its growing middle classes. An average India worker, the report said, can be employed for almost a fifth of what it costs to employ a Chinese labour. Also, India's 450 million strong labor force is set to double by 2025, providing a perfect hunting ground to China's manufacturers.
But there is a long way to go
Despite this flurry of investments, FDI from China into India remains abysmally small. Although annual data on Chinese FDI inflows is hard to come by, government data, as previously noted, show that $1.35 billion FDI that came from China made up for less than 0.5% of the total FDI received during this period. In fact, even if one considers the recent upsurge in investments, India's largest neighbor and one of its principal trade partners, will be nowhere close to Mauritius and Singapore, which together pumped in more than $140 billion during this period.