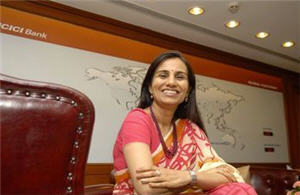 ICICI Bank has reportedly finalised the successor to its CEO K V Kamath. Chanda Kochhar, currently Joint Managing Director at the bank, is all set to take over from a high profile Kamath as the new CEO of India's largest private sector bank.
The bank's board is meeting on Friday in which it is expected to give a formal approval to the anointment of Kochhar. She will take charge from May 2009, when Kamath will retire to become the non-executive chairman of the bank replacing N Vaghul.
At 47, Kochhar will be the youngest chief executive of the 54-year old bank. ICICI, set up in 1954, had its origins as a corporate lending financial institution. It became a bank in 1994, and from then it has built up a large retail business. Kochhar, who joined ICICI in 1984 as a management trainee fresh from Jamnalal Bajaj Institute of Management Studies, is believed to have played a significant role in building the retail portion of business which now accounts for two-thirds of the bank's balance sheet.
Kochhar's appointment was expected as she had become the public face of the bank in the last few months. It was Kochhar who fielded questions from the media when the rumour spread that ICICI Bank was affected by credit crunch fiasco in the US. Kochhar kept her calm and heavily defended the bank's position in public. These were the signs enough that Kochhar had emerged as the strongest contender for the top job at the bank.
The other storng contender for Kamath's job was Shikha Sharma, Managing Director & CEO of ICICI Prudential Life Insurance. The appointment committee had also shortlisted other ICICI veterans like Renuka Ramnath, Managing Director, ICICI Ventures, Sandeep Bakhshi, MD & CEO of ICICI Lombard General Insurance, and three Executive Directors of ICICI Bank, V Vaidyanathan, Madhabi Puri-Buch and Sanjoy Chatterjee.
The scale was heavily tilted in favour of Kochhar as she had risen from the ranks as one of the most important officers handling crucial portfolios. Her leadership qualities, and the ability to troubleshoot were also regarded high.  
Related: