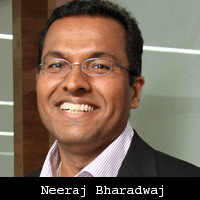 Global alternative asset management company, The Carlyle Group, has appointed Neeraj Bharadwaj as Managing Director, Carlyle Asia Partners (CAP). VCCircle was the first to report on June 13 that Bharadwaj is tipped to join Carlyle.
A Graduate of Harvard Business School and Wharton School, Bharadwaj previously worked as managing director at Accel Partners and as a partner and managing director/country head with Apax Partners.
Bhawadwaj, who was also on the Board of the Indian School of Business (ISB), had moved out of the buyout giant Apax and joined Accel in 2009 in order to build its India presence with a new growth fund.
Accel Partners, which has backed Facebook and Groupon, already has a separate team running its existing early-stage investment outfit in the country. At Accel, Bharadwaj was to lead the show for a proposed $400-million growth fund for investments into mid-size Indian companies in the bracket of $10-50 million, across sectors. However, the plan was reportedly abandoned last year – two years after he joined Accel -- amid a tough fundraising environment globally. Around the same time, Accel's early-stage investment team raised a new $155 million fund for India.
X.D. Yang, managing director of The Carlyle Group and co-head of Carlyle Asia Partners, said: "We believe the coming years represent a very attractive period to invest in India. Under the leadership of Neeraj Bharadwaj, managing director and Devinjit Singh, we expect to continue to build our leadership position in India to tap into its fast economic growth and increasing demand for value-add private equity investments."
Some of Carlyle's recent investments in India include India Infoline, Edelweiss, South India Bank, Visen industries and Value & Budget Housing. Carlyle has been looking to hire an MD for its India operations after its India head and managing director Rajeev Gupta quit to start his own advisory firm last year.
Carlyle Asia Partners, which has been operating for the past 14 years, advises three pan-Asia funds and one RMB fund. The CAP funds undertake minority investments in well established companies across the Asia ex-Japan region. In India, Carlyle has invested $800 million to date, including CAP's investment in Housing Development Finance Corporation (HDFC) and The India Infoline Group (IIFL).
As of March 31, The Carlyle Group had $159 billion of assets under management in 94 active funds and 63 fund of fund vehicles. Its investments are mainly in corporate private equity, real assets, global market strategies and fund of funds solutions segments. The company has significant geographical presence across North and South America, Europe, Middle East, Africa, Asia, and Australia, where it operates through 32 offices and more than 1,300 employees. The group has expertise in several industries including aerospace, defence & government services, consumer & retail, energy, financial services, healthcare, industrial, technology & business services, telecommunications & media and transportation sectors.