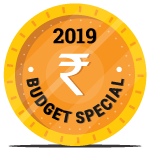 In a massive push for boosting infrastructure, the Union government announced on Friday that it intends to invest Rs 100 lakh crore (around $1.46 trillion) in the sector over the next five years.
Presenting the Union Budget for 2019-20, finance minister Niramala Sitharaman said that the investment-driven growth will require access to low-cost capital. With this in mind, the minister proposed some measures to enhance the sources of capital for infrastructure financing:
A Credit Guarantee Enhancement Corporation, for which regulations have been notified by the RBI, will be set up in 2019-20.
An action plan to deepen the market for long-term bonds including for deepening markets for corporate bond repos, credit default swaps etc., with specific focus on infrastructure sector, will be put in place.
It is proposed to permit investments made by FIIs/FPIs in debt securities issued by Infrastructure Debt Funds-NBFCs to be transferred/sold to any domestic investor within the specified lock-in period.
The government may also organise an annual Global Investors Meet in India, using the National Infrastructure Investment Fund (NIIF) as the anchor, to bring together three sets of global players ---top industrialists, top pension/insurance/sovereign wealth funds and top digital technology/venture funds.
Road projects and Railways
Sitharaman said that a comprehensive restructuring of the National Highway Programme will be undertaken to ensure that a National Highway Grid of desirable length and capacity is created using a financeable model.
An investment target of Rs 80,250 crore is set for phase three of the Pradhan Mantri Gram Sadak Yojana, under which the government wants to build 1,25,000 km of village roads. The earlier phases of this scheme led to the construction of 30,000 km of village roads with green technology, which will continue, Sitharaman said.
The finance ministry had allocated the highest-ever budgetary support of Rs 83,016 crore to the highways sector in the interim budget announced earlier this year in February and Rs 64,587 crore for railways.
Sitharaman also said that the railways will be encouraged to make investments and expand network in suburban areas.
Railway infrastructure will need an estimated investment of Rs 50 lakh crore between 2018 and 2030, she said, adding that public-private partnerships (PPP) will be tapped to encourage faster development and delivery of passenger freight services.
The government will also launch a station modernisation programme this year.
Projects such as industrial corridors, DFC, Bharatmala, Sagarmala and regional air connectivity scheme UDAN have and will continue to improve connectivity and increase competitiveness, the minister said.
Water
The Budget speech highlighted the need to develop inland waterways to shift a significant portion of inland cargo movement from road and rail.
"As part of the Jal Marg Vikas Project for enhancing the navigational capacity of Ganga, a multi modal terminal at Varanasi has become functional in November 2018 and two more such terminals at Sahibganj and Haldia and a navigational lock at Farakka would be completed in 2019-20," Sitharaman said.
The finance minister expects cargo movement in the Ganga to increase four times in four years with the creation of transit hubs at Varanasi, Sahigbanj and Haldia.