Credit: Shah Junaid/VCCircle

The government aims to raise Rs 80,000 crore ($12.5 billion) from stakes sales in state-run companies in 2018-19, as it looks to boost rural and infrastructure spending as well as contain the fiscal deficit ahead of general elections by next year.
The disinvestment goal set by finance minister Arun Jaitley in his budget speech on Thursday is higher than the Rs 72,500 crore target set for the current fiscal year, but lower than the Rs 1 trillion the government expects to actually collect.
The Centre has raised Rs 92,476 crore through disinvestment in the current financial year so far. However, more than a third of that amount, or Rs 36,9015 crore, came from a sale a stake in state-run refiner Hindustan Petroleum Corp Ltd to state-run explorer Oil and Natural Gas Corp.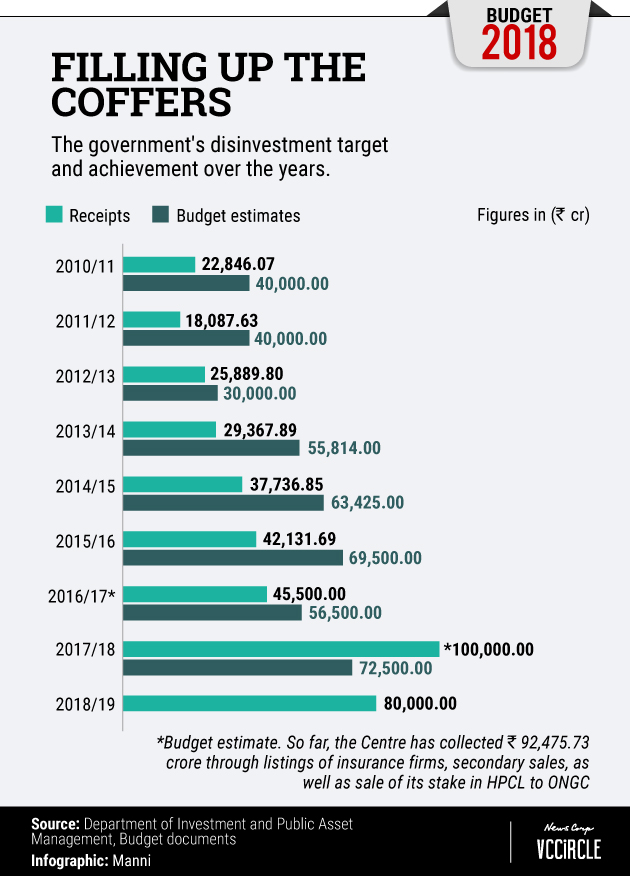 Jaitley also said that the government plans to list 14 state-run companies, including two insurers, on the stock exchanges in 2018-19. Besides, the Centre has initiated the process of strategic disinvestment in 24 companies, including national carrier Air India, he said.
The minister, however, didn't provide a break-up of the capital receipts it aims to get from minority stake sales, strategic stake sales and new listings.
In the last Budget, the government had proposed listing of railway companies Indian Railway Catering and Tourism Corporation Ltd (IRCTC), Indian Railway Finance Corporation and Ircon International Ltd. Although not mentioned in the budget, the Centre also intends to sell a small portion of its stake in railway consultancy firm RITES Ltd.
Apart from the stake sale in HPCL, the government garnered roughly Rs 17,350 crore this fiscal year by selling a stake in state-owned insurance firms New India Assurance Co. Ltd and General Insurance Corporation of India through their initial public offerings.
In addition, the government sold minority stakes in half-a-dozen listed state-run companies such as Hindustan Copper, National Aluminium and NTPC.