Finance minister Arun Jaitley on Monday sought to give a push to low-cost residential projects through tax benefits to both consumers and developers in the 2016-17 Budget, as part of efforts to achieve the government's ambitious target of providing housing facilities to all citizens by 2022.
Presenting his third budget in parliament, Jaitley proposed 100 per cent tax deduction on profits from housing projects with flats measuring 30 sq metres in metros and 60 sq metres in other cities. However, the exemption is valid only for projects to be approved during June 2016 and March 2019 and completed within three years.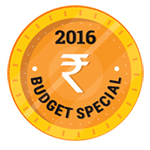 he budget also proposed to scrap service tax on houses up to 60 sq metres in size constructed under any state or central government scheme.
The steps will likely boost private-sector participation in the government's Pradhan Mantri Awas Yojana that targets housing for all, as developers have been asking for incentives to launch more affordable housing projects that are aimed at mid- and lower-income groups and offer thin margins.
To boost demand, the government has offered an additional Rs 50,000 tax rebate on interest paid by first-time home buyers on a loan of Rs 35 lakh. The rebate comes with a rider that the property value shouldn't exceed Rs 50 lakh.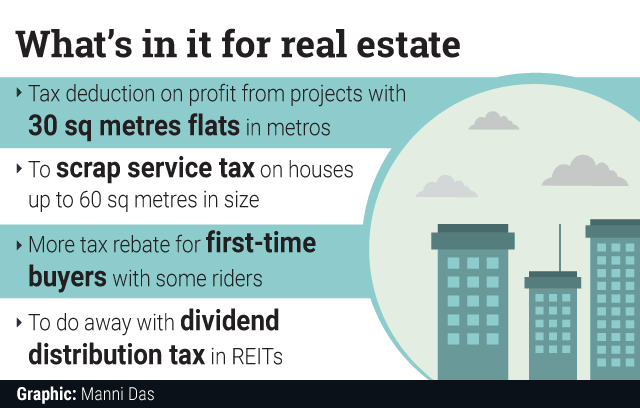 The moves come at a time when the housing market is struggling due to sluggish demand. Tax sops to boost demand was one of the main expectations of the real estate industry. Overall, the budget focused on reviving the rural economy and improving infrastructure, which will have an impact on the real estate sector as well.
Getamber Anand, chairman and managing director at ATS Group and national president at industry body CREDAI, said the tax benefit will spur the market and encourage home buyers. However, consultancy firm JLL India said most first-time home buyers in the major metros will be left out of the additional tax exemption and that it will mostly benefit buyers in smaller cities and towns. It described the budget below expectations but with some major positives.
Industry executives have also questioned the rationality for keeping three years as the deadline for completing these projects. The industry has been seeking to hike the project completion time from three years to five years given the delivery track record of the sector.
RK Arora, chairman of Supertech Ltd, said that the incentives announced for affordable housing will have limited impact on buyers. The budget hasn't addressed the grievance of providing bank finance to developers and the sector remains entirely dependent on high-cost finances, he added.
REITs
Jaitley addressed another important issue raised by the stakeholder by proposing to scrap the dividend distribution tax--levied on the dividend paid to investors--of Real Estate Investment Trusts (REITs) and Infrastructure Investment Trusts (InvITs).
REITs were allowed in the country in 2014 but haven't taken off thanks to tax issues. In the last budget, Jaitley had rationalised the capital gains tax for sponsors of REITs and accorded pass-through status to rental income. The latest proposal is likely to lead to setting up of the first REIT structure in India.
Jasmeet Chhabra, managing partner at Cerestra Advisors Ltd, which focuses on investment in educational-infrastructure assets, said the dividend tax waiver lays the road for creating an effective and robust REIT market in India. The move is "a great positive for the capital-starved" sector, he added.
JLL expects a few listings to happen this year itself and pegs REIT-compliant office space at 229 million sq ft.
Neeraj Bansal of KPMG said the announcements on REITs and affordable housing are on expected lines but the budget is a mixed bag for real estate. He pointed out that the budget left a few issues unaddressed. This include lack of clarity regarding minimum alternate tax on Special Economic Zones; exemption of service tax on joint development agreements and developers' agreements; and allowing developers to borrow overseas.
Digitisation of land records
The budget also allocated Rs 150 crore for digitisation of land records. While the amount looks small, the intention is right. The government's Digital India initiative will ease the land acquisition process and bring transparency in the system.
While the budget has met some of the key expectations of the industry, a number of other demands such as grant of infrastructure status and a single-window clearance for projects remain unfulfilled, said Amit Modi, vice president of CREDAI western Uttar Pradesh.