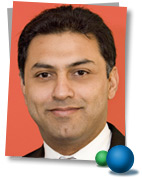 In an interesting move, Bharti Airtel, India's largest mobile services company, has appointed Nikesh Arora, a top executive of Google Inc, on the board of the company as an indepedent director. Arora is one of the few top ranking executives at the search engine and is in charge of Europe.
Commenting on the appointment, Sunil Bharti Mittal, Chairman and Managing Director, Bharti Airtel, said: "We are delighted with the appointment of Nikesh on our Board. His appointment further strengthens our board, which is amongst the finest in the country. I am confident that his rich experience in the international telecom and IT sector will be of tremendous benefit to the company. In particular, Nikesh's strategic insights into innovation and emerging technologies will help Bharti Airtel develop a strong platform for the future."
Nikesh Arora is President, EMEA Operations & Senior Vice President, Google. He is responsible for Google's business across 28 offices in the European, Middle Eastern and African markets with a team of over 2500 people.
Before joining Google, Arora was Chief Marketing Officer and member of the Management Board of T-Mobile. Prior to that he worked at Deutsche Telekom, where he founded T-Motion PLC, a mobile multimedia subsidiary of T-Mobile International. Prior to his tenure in T-mobile, Arora was part of the asset management team at Putnam Investments focusing on tech and telecom on a global basis. He has also held finance and technology management positions at Fidelity Investments.
In July 2007, Arora was appointed to the board of Aviva PLC as an independent non-executive director. Arora received a MS in Finance from Boston College and an MBA from the Northeastern University in the United States. He received Bachelors Degree in Electrical Engineering from Institute of Technology in Varanasi in 1989.
The current board of Bharti includes the following: