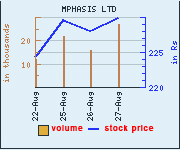 This just in. There is a news flash on NDTV profit saying that Baring Private Equity India can sell its remaining 7.5% stake in Mphasis to EDS. However, there has not been any communication to the stock exchanges yet.
Baring Private Equity made whopping exits from Mphasis. Earlier in 2006, Baring India Investment Ltd, the investment arm of Baring Private Equity, sold 56,014,184 shares aggregating to 34.73 per cent of the share capital of Mphasis, in response to the offer made by EDS Corp. Baring's realisation from this sale was a whopping Rs 1,150 crore ($255.5 million). It's a multibagger investment for Baring. Media reports suggested that their original investment was in the range of some $10-15 million.
The current shareholding pattern can be viewed here. Shares of Mphasis are trading at Rs 242.50, up Rs 12.6, or 5.48% at the Bombay Stock Exchange (BSE) on Thursday at 12:11 p.m.
The scrip has touched an intra-day high of Rs 243.85 and low of Rs 231.00. The total volume of shares traded at the BSE is 152,648. Post its latest Annual General Meeting on August 25, the stock has been trading upwards. Please see the figure.