After completing share purchase from the promoter and private equity investor of Hexaware Technologies, Baring Private Equity Asia has nominated Jimmy Mahtani and Kosmo Kalliarekos as directors on the board of the information technology and business process outsourcing service provider.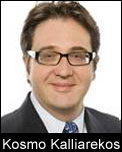 Kalliarekos and Mahtani, both managing directors at Baring Asia, will be representatives of the PE firms special purpose vehicle (SPV) HT Global IT Solutions Holdings. At the company's meeting held on Oct 11, it has also appointed chartered accountant Dileep Choksi as an independent additional director.
Abhay Havaldar, who was General Atlantic representative on Hexaware board, will continue as independent director. Bharat Shah too will continue as independent director. Other directors Ashish Dhawan, LS Sarma, Shailesh Haribhakti, Preeti Mehta, Subrata Mitra and S Doreswamy have resigned from the board of Hexaware.
Hexaware also said that Baring is closing the transaction to buy 125 million shares or 41.47 per cent stake from promoter Atul Nishar and General Atlantic. The SPV, HT Global, will now be the promoter entity of Hexaware.
Shares of Hexaware were up marginally 0.12 per cent to Rs 130.3 on Monday.
At Baring PE, Mahtani is responsible for its investments in South and South East Asia. Prior to that, he was a vice-president with General Atlantic Partners, Mumbai and founded its India office. He has also worked with Bear Stearns & Co., Inc. in New York and Merrill Lynch in Washington D.C. Mahtani graduated with honors from Georgetown University, where he received a B.Sc. in Business Administration with a triple major in finance, international business and marketing.
Kalliarekos, who has advised clients on issues related to operational excellence, strategy development and growth for over 20 years, was a founding member and senior partner of The Parthenon Group before joining Baring PE. He has also worked with Bain & Company as a consultant.
Kalliarekos holds a B.S. in Economics from the Wharton School of the University of Pennsylvania and is also a Baker Scholar, with an M.B.A. from Harvard Business School.