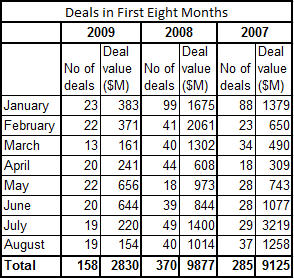 August was the worst month for private equity, or PE, deals in India in the last four years. There were only 19 PE deals totalling $154 million (around Rs750 crore) announced in August, reminiscent of the days of early 2005 when the PE market had just kicked off in India. March was the second worst with 13 deals worth $161 million.
When there was a spurt in activity in May and June this year, each recording at least 20 PE deals with a value of around $650 million for each month, it seemed the tide was turning. However, any enthusiasm was shortlived as July recorded only 19 deals worth $220 million, followed by August. In fact, the first eight months of 2009 have seen only 158 deals worth $2.83 billion compared with 370 deals worth $9.8 billion in the same period last year. Even the first eight months of 2007 had seen 285 deals worth $9.1 billion.
So, was there a pickup of PE deals in the last few months as was popularly believed? Not really. Any such impression was caused by a sudden rush of qualified institutional placements, or QIPs, and not by classic private equity investments.
"Most of the private equity investments in India were anyway PIPEs (private investment in public equity). And public market companies offer more opportunities than private companies for investors," said Sanjay Bansal, managing director at Ambit Corporate Finance Pte Ltd.
QIPs involve the sale of shares, or securities convertible into equity, by companies to qualified institutional buyers. There were 18 successful QIPs this fiscal which raised $3.25 billion, surpassing the PE deal flow of the entire calendar year. Even though a few PE funds participated in QIP issues, data is not available as to how much PE capital flowed to Indian companies through this route.
"We have seen a lot of QIPs, initially in the real estate sector, and now we are seeing in other sectors too. PE will start picking up from the next quarter as there are a number of deals under discussion," said Vikram Utamsingh, head of private equity, KPMG India Pvt. Ltd.
PE deals usually take two-four months to close as due diligence and negotiations with privately held companies take time. "We are expecting to close more deals in coming quarters than we were six months ago," said Srinivas Chidambaram, managing director of Jacob Ballas Capital India Pvt. Ltd, a New Delhi-based PE firm which manages at least $600 million in three funds.
Classic private equity—where a negotiated deal between a PE firm and private company is struck—may have lost its sheen as QIPs became attractive and the valuations had corrected in capital markets. On the other hand, private company valuations did correct as much.
Even though conventional PE deals are yet to stir from their slumber, the success of QIPs shows that liquidity is seeping back. "It's a snowball effect when corporates (companies) feel that economy has improved and liquidity is coming back," said Chidambaram.
The Bombay Stock Exchange's benchmark index, the Sensex, has risen back from 8,000 points to inch towards the 16,000-mark, closing at 15,666.64 on Monday while the broader 15-stock Nifty closed at 4,662.10 points. Promoters are likely to see this as a good benchmark to negotiate deals on.
Besides, primary markets are also reviving and that will result in the participation of PE firms in pre-IPO (initial public offering) deals.
PE-backed companies such as Adani Power Ltd (3i Group Plc picked up a stake) and Mahindra Holidays and Resorts India Ltd (where Jacob Ballas Capital bought a stake) have already been listed, providing liquidity to the investors.
Several PE-backed firms such as Indiabulls Power Services, DEN Digital Entertainment Networks Pvt. Ltd and DB Corp. Ltd (the publisher of Hindi daily Dainik Bhaskar) have filed their prospectuses with market regulator Securities and Exchange Board of India for public offerings. A number of firms which were IPO-ready last year before the market plunged and had filed their prospectuses are also waiting in the wings.
Another factor that may drive deals is the change in global sentiment, especially among global funds.
Earlier, these funds were being told by their investors to work with their existing portfolio companies and stop making new investments. "But global funds are now being encouraged by their investment committees to do deals," said Utamsingh. Also, a number of PE firms have not done any deals in the last 15-20 months and will be yearning to close a transaction.
So, what factors and areas will drive private equity deals?
"Investment will be in two situations—one, where there is a huge capital raising requirement and valuations are decent, and second is where there is a turnaround story," said Bansal.
Real estate, infrastructure and related areas are expected to attract most investments. "Because of the scale and range of opportunities, infrastructure and allied areas will continue to attract maximum funding," said Chidambaram. Other sectors expected to see funding are retail, agriculture, food and healthcare, which are driven by domestic demand.