The success of private equity deals, long associated with creating value through leveraged buyouts, is actually being driven by operational improvements with the phenomena particularly strong in Asia Pacific, according to a global study.
Unlevered returns comprising operational improvements and the multiple effect accounted for over two-thirds of value creation, with growth in earnings before interest, tax and depreciation & amortisation or EBITDA itself accounting for 41 per cent of value creation, as per a joint study by global fund manager Capital Dynamics and the Technische Universität München.
The study, in its second edition, captured data from 701 global private equity exits during 1990-2013 and looked at how value and alpha are created across private equity deals. It defined operational improvement primarily coming from growth in EBITDA and free cash flow.
Results showed that operational improvements accounted for 69 per cent of value created in private equity.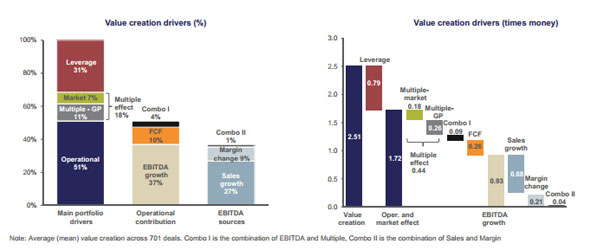 Overall, private equity deals yielded an annualised rate of return of 41 per cent on average, while publicly traded peers returned 15 per cent. After the extraction of leverage, private equity deals averaged an annual unlevered return of 28 per cent compared with 14 per cent for public equities, resulting in operational private equity alpha of 14 per cent, as per the study.
"Private equity operational alpha resulted from the superior EBITDA growth of private equity-backed companies achieved by acquisitions and organic growth compared with public benchmarks. EBITDA of private equity-backed companies grew 42 per cent during the holding period, while public benchmark companies' EBITDA increased by 12 per cent," it added.

Asia
The study revealed that Asia-Pacific buyout deals showed the strongest results with respect to value creation from operational sources such as EBITDA growth and free cash flow generation. Sales growth was a major source of EBITDA increase for Asia-Pacific deals, although value deteriorated slightly due to decreased margin.
The multiple effect or value creation from a change in acquisition and exit multiples, captured through pure market movement and company-specific valuations linked to operational performance as well as asset quality improvement under General Partners' ownership, was a strong driver for Asia-Pacific deals, it noted. This was attributed to greater impact of public market movements and more market inefficiencies in the region, enabling deals to be sourced at attractive entry valuations.
Value creation from leverage played a subordinate role in Asia-Pacific buyout deals compared with North American and European deals.

Further, PE unlevered returns benchmarked against public companies show that Asia-Pacific deals churned out highest operational alpha of 44 per cent compared with 22 per cent in North America and 10 per cent in Europe.
Although the study does not throw up country specific trends, buyouts in India have been far few to draw conclusions. The implicit ban on leveraged buyouts have also meant the handful of buyout deals in the country were unlevered.
(Edited by Joby Puthuparampil Johnson)