On Monday, petroleum minister Dharmendra Pradhan said that the daily revision in prices of petrol and diesel was in the interest of consumers. What he didn't say was that the daily revision is, perhaps, in greater interest of oil companies and fuel pump owners.
Oil marketing companies (OMCs) began changing fuel prices on a daily basis on 16 June, doing away with the 15-day price revision cycle that had been in place for the past several years. In recent days, several media reports and opposition leaders have said that OMCs such as Indian Oil Corporation and Bharat Petroleum Corp have been using this change to make a killing.
How far is that really true?
An analysis of retail selling price data for Delhi put out by state-run Indian Oil, the largest OMC, and the price at which India imported crude oil shows the increase in petrol and diesel prices has outpaced the latter in the past two months.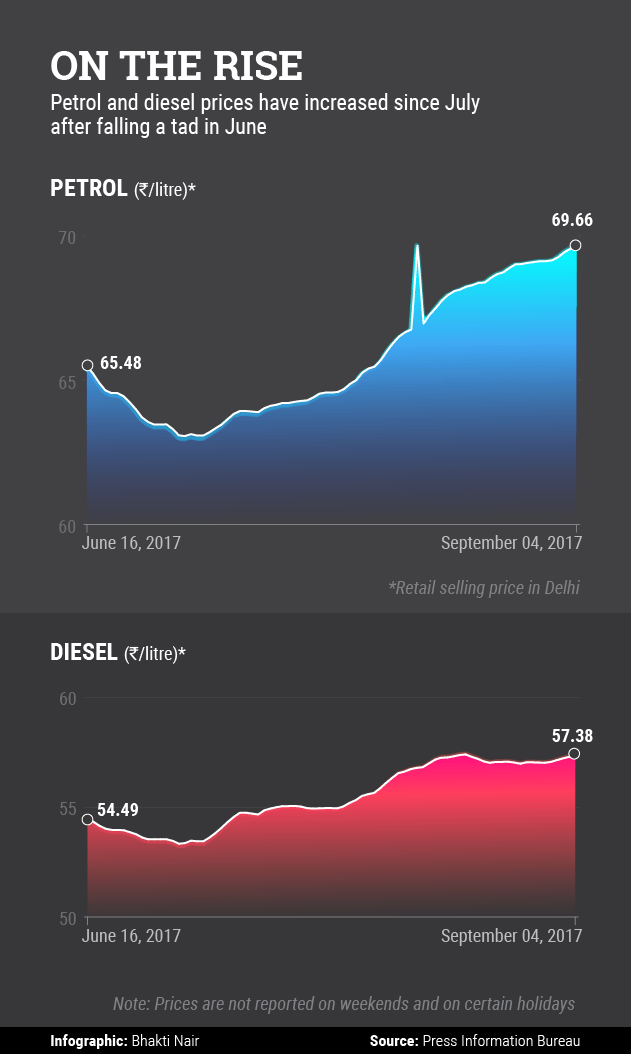 Data show that between 1 July and 4 September, the price of petrol sold at Indian Oil outlets in Delhi rose from Rs 63.09 per litre to Rs 69.66, an increase of 10.4%. The price of diesel increased 7.5%, from Rs 53.33 per litre to Rs 57.38.
However, the price of the Indian basket of crude oil rose just 3.4% during this period, from Rs 3,114.44 per barrel to Rs 3,219.57.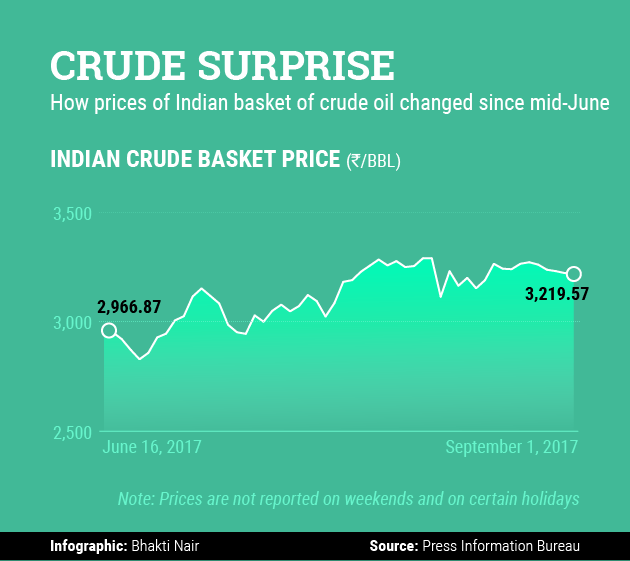 This means that, between 1 July and 4 September, the increase in the retail price of petrol in Delhi was more than three times that of the increase in the average price at which India imported crude. Even the price of diesel was up by more than twice in the same period. This indicates that the OMCs may be using the new pricing regime to shore up their margins.
If there is still doubt, consider this. According to the price build-up of petrol in Delhi effective 17 June, Indian Oil was paying refineries Rs 24.89 for every litre of petrol and charging its dealers Rs 27.33, netting a 9.8% margin on the ex-refinery cost price.
The price build-up of petrol in Delhi effective 4 September shows that Indian Oil was paying refineries Rs 26.65 for every litre of petrol and was charging dealers Rs 30.31 per litre, earning a 13.7% margin.
This clearly shows that Indian Oil did increase its margin both on an absolute as well as a relative basis. In fact, in absolute terms the margin surged 43% from Rs 2.44 per litre to Rs 3.48 per litre. This would boost their bottom lines, too. As per a report by Credit Suisse, every 10 paise (Rs 0.1) increase in the price of petrol or diesel adds between 1.9% and 3.5% to an OMC's earnings per share.
While the OMCs have expanded their margins, their commission to fuel pump owners has also risen substantially from 17 June to 4 September. The data show that the commission Indian Oil pays its dealers jumped 27% from Rs 2.55 a litre to Rs 3.24.
To be sure, central and state government taxes make up for a significant portion—57% to be precise—of retail selling prices in India. But the last time the central government raised excise duty on petroleum products was in January 2016. So, the relative gains from the price increase are clearly being pocketed by the OMCs. On 2 September, the government ruled out cutting taxes on fuel. Petrol, diesel, natural gas and aviation turbine fuel have been kept out of the Goods and Services Tax (GST) regime.
If one considers the data from 16 June, the day the new pricing regime became operational, things begin to look a little different. Data show that between 16 June and 4 September, while the price of the Indian crude basket climbed 8.5%, the corresponding increase in the retail selling prices of petrol and diesel was 6% and 5.3%, respectively.
Having said that, Indians continue to pay significantly more for fuel compared with most neighbours in South Asia. According to data from the government's Petroleum Planning and Analysis Cell, as of 1 August, while Indian Oil consumers were paying Rs 65.4 for every litre of petrol and Rs 55.58 for diesel, those in Pakistan were coughing up Rs 42.41 and Rs 49.25, respectively.
The data also show that consumers across Nepal and Sri Lanka also pay significantly lower than Indians for petrol and diesel, with only Bangladeshis paying higher for petrol than Indians.