Jabong | Credit: Shah Junaid/VCCircle
Chinese e-commerce giant Alibaba, Aditya Birla's new e-commerce venture Abof along with homegrown e-commerce companies Myntra and Snapdeal, besides brick-and-mortar retailer Future Group are all in separate buyout talks with Rocket Internet-incubated fashion e-commerce venture Jabong.
Quoting unnamed sources close to the developments, The Economic Times reported that the asking price for Jabong is $250-300 million, but the final deal size could be lower.
The company has held talks with at least three possible suitors, but none of the negotiations have reached the final stages. However, a deal is expected to materialise within six months.
According to another report by Mint, the negotiations are led by Swedish investment firm Kinnevik's chief executive Lorenzo Grabau. It further said Kinnevik is seeking a valuation of $100-150 million for Jabong in cash and stock, but the deal could be closed at a much lower valuation of $50-75 million.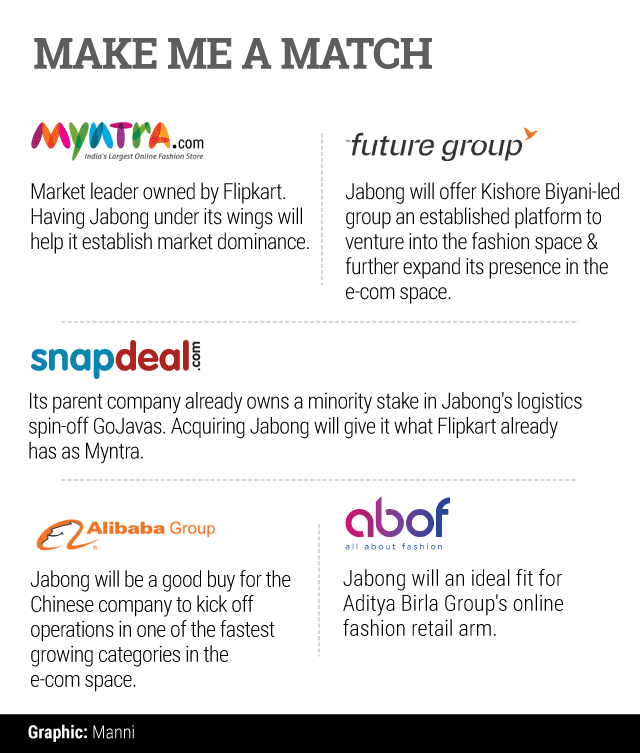 Kinnevik holds a large stake in Jabong's parent company Global Fashion Group.
Rocket Internet declined to comment on the development while the spokesperson of Abof said the company had no comment to make at this point of time. Emails sent to Jabong, Myntra, Future Group and Snapdeal for more details remained unanswered till the time of filing this report.
VCCircle had previously reported that Jabong was in talks with Amazon for a potential deal worth $1.1-1.2 billion, which could become the biggest acquisition in the history of the Indian e-commerce space. However, the deal was later called off.
Separate media reports had suggested that the company also held talks with Paytm in the past.
Jabong, that hit a speed bump in the second half of 2015, had entered the new year with a marked improvement in performance while simultaneously cutting down operating loss.
The firm posted its best transaction volumes, net revenue and gross merchandise value (GMV) since October-December 2014 (the firm stated that its growth in Indian currency terms was higher still at 21.8%). Operating loss, too, was the lowest in almost two years.
It broke even at a gross profit level and attributed it to 'improving intake margins and an increase in the de-risked business, including consignment, partly offsetting continued high levels of discounts'.
Jabong, which competes with Flipkart-owned Myntra among others, has been focusing on mending its leaking boat. Its EBITDA or operating loss (adjusted for share-based compensation) had been shrinking from Q3 and declined further in the three months ended March 31, 2016.
The firm had first felt the pain of scaling back discounts from the third quarter of 2015 (click here) and saw an even sharper slide in business in the last three months of the year.
Jabong saw a change in management at the fag end of last year with former Benetton India head Sanjeev Mohanty taking over as CEO in December. Indeed, Mohanty had claimed early this year that Jabong registered the highest-ever month-on-month growth of nearly 35% per cent in net revenue for January, which marked its best performing month since its inception in 2011.