In Indian agriculture, the scope—and application—of technology has long been limited to genetically-modified crops, high-yield seeds and, of late, a handful of sophisticated tools like aerial images and GPS technology. Needless to say, a lot of challenges that farmers faced remained unresolved, partly because there were no problem-solvers around.
But that's fast changing. Leveraging rising mobile and internet penetration, an army of agri-tech startups is offering farmers services such as on-demand delivery of farm inputs, online financial assistance, weather updates, drone-driven crop health identification, soil health assessment and equipment on rent, among others. Then, for purposes of edification and infotainment, there are startups offering both financial literacy videos and online games, such as Wonder village and Farmer Book!
The array of offerings clearly suggests these startups are finding takers in farmers.
Ayush Nigam, co-founder of Distinct Horizon, a fertiliser application startup, says the biggest change the industry is seeing is that farmers are now willing to adopt new practices that can improve yields or reduce cost. They are open to trying new technologies as long as they are sustainable and don't require too much additional labour.
Distinct Horizon, which has developed an innovative machine for deep placement of urea fertiliser to increase crop productivity, counts Tata Chemicals and San Francisco-based IDEO.org as partners. Nigam, who feels the space has been underserved for decades, claims his deep placement technology not only doubles farmers' profits but also helps maintain better soil health.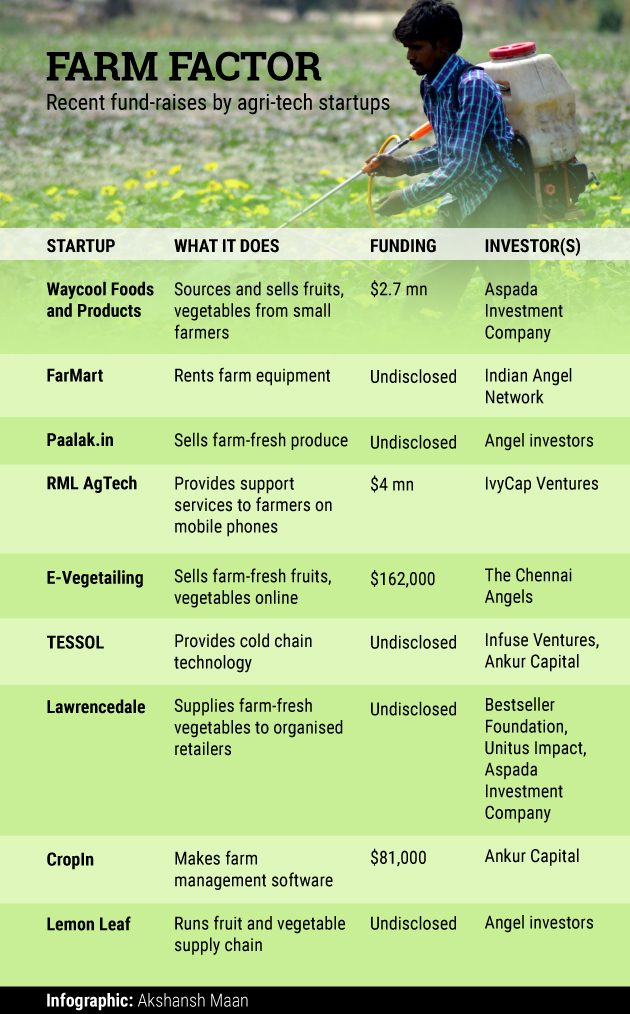 Then there are startups like Ravgo, a farm equipment rental marketplace that holds out hope for small farmers who cannot afford expensive machinery. Ravgo follows a commission-based model, wherein it charges a certain percentage from vendors for the business it generates for them. The fact that analysts peg India's tractor-hiring market alone at Rs 15,000 crore per annum indicates the potential of the segment.
The supply-chain space, too, has seen several startups, with logistics between farmers and end-customers continuing to be a tricky area. Others have gotten into primary processing, packaging and selling of produce, spanning the entire chain.
Several of these ventures have been able to raise funds from prominent investors like Indian Angel Network, International Finance Corporation, US-based venture capital fund Unitus Impact, and even Denmark-based Bestseller Foundation, a private philanthropic organisation.
"The sector is evoking investor interest because of the enormous market size and the new-found thrust on the end-customer. If entrepreneurs can prove that their concept works and farmers are willing to pay for it, investors will grab the opportunity," says Nigam. In case of Distinct Horizon, he claims, the precise fertiliser application technology helps the company recoup four times the investment in the first year itself.
Gajjender Yadav, founder at cow milk delivery startup 4SFoods, feels the rise of socially-responsible consumerism is giving the industry a fillip. Besides, the fact that these startup entrepreneurs are not just sitting in AC cabins, but are willing to get their hands dirty, is also driving the change.
Also, investors are placing their bets on startups like 4SFoods, and other farm-to-fork and organic food ventures given the rising propensity of the Indian consumer to loosen their purse strings for healthy, pesticide-free food.
"The disposable income with the middle class is growing, the first avenue they spend money is the better quality of food. Hence, there is an incentive for companies to invest time, energy and money into delivering better quality food to the consumer. As long as the consumer is willing to pay, there is value in investing in these companies. Look at the organic sector, for example, no one was talking about it 5-6 years ago, but now people are buying organic. In general, they are willing to pay 10%-20% extra for packaged, pesticide free food," says Kushal Agrawal, partner and CFO at Aspada Investments, an early-stage venture capital firm that has backed fresh-produce distribution startup WayCool and on-demand farm mechanisation services company EM3, among others.
Using Bangalore-based Farmily, farmers can set up micro-sites to display their produce and reach out to potential customers. Whenever a customer shows interest, the farmer receives an SMS with the customer's details, which eliminates middlemen from the process.
Another app-based startup, Mandi Trades, also connects farmers and buyers.
"Farmers face significant challenges at every point from buying agri-inputs, to improving yields and finally getting a good price for their produce. We are working on solving some of these challenges through technology," Shardul Sheth, founder and CEO of AgroStar, had told VCCircle earlier this year.
A direct-to-farmer m-commerce platform, AgroStar is operational in Gujarat, Maharashtra and Rajasthan and claims to have over a million farmers on its platform.
Big Data isn't behind either, with startups in the space winning insurance companies and banks as clients.
Mostly operating on the software-as-a-service (SaaS) model, these startups capture data on crop growth, likely yield, soil moisture, temperature and humidity, among other things, sell it to relevant stakeholders. Buyers include players selling agricultural inputs to farmers, apart from insurers and banks.
And the value-proposition is undeniable given data is the ultimate commodity.
"For most insurance companies, the challenge is to estimate the risk profile of the farmer and his farm. You have to have a lot of information, in terms of what crops are being grown, the track record, data on soil, nutrition, weather and pest attacks, the likely output, and the farmer's income," says Hemender Mathur, agribusiness investment lead and venture partner at Bharat Innovations Fund.
Agrawal says the creation of a strong farmer network is tough but paramount. "Because many farmers have been cheated a lot of times by corporates and fly by night companies, they don't trust you easily. They are generally sceptical and for companies to be able to service them and get the output from them is a challenge," he observes.
He adds that if startups can figure out how to take "basic technology" to small farmers, productivity will rise.
On the tech side, the primary challenge is domain expertise.
For tech-driven startups, says Mathur, seamlessly integrating the technology platform with domain knowledge of agriculture is critical. "I think the challenge is to build multiple layers of analytics. How to analyse these data points in a form that it becomes more valuable and can be sold to multiple users. It needs a lot of domain expertise. People are not asking for data per se, they are asking for insights," he adds.
Resilient food demand is, however, a good sign, and it will ensure there is always scope for innovation in all areas of agriculture.
"Challenges are on the supply side...there are so many intermediaries and inefficient handling. Aggregation is clearly the missing link. Primary processing, as simple as trading, sorting and packing, are also areas of big opportunity," Mathur says.
As for the government's role in the ecosystem, startups feel it needs to bump up the spend on farm inputs to unlock the sector's long-term potential.
"The government spends almost 10 times of farm inputs on farm subsidies, but it needs to reverse the trend gradually. Farm subsidy makes a farmer dependent while inputs will make him much stronger and independent," Yadav says.