Notwithstanding the contraction of capital raising in 2008, private equity funds' interest in India is not waning. There are about 117 pan-Asia private equity funds - who have India as one of its geographies - on road currently targeting to raise an aggregate capital of $59.2 billion in 2009, according to Prequin, a London based research firm that tracks private equity fund raising globally.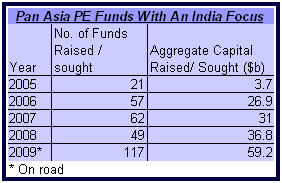 If you look at funds which are being raised exclusively for India, there are 78 such funds on road in 2009 looking to raise $24 billion. This is only marginally lower than what we had in 2008. For instance, last year there were 84 funds from India which were out in the market to raise capital.
Left With Dry Powder
Even though there has been a slowdown in fund raising last year, many firms are sitting with a lot of cash in their bank. This dry powder, or uncalled capital, will be available to invest in new deals in 2009, a Preqin statement said.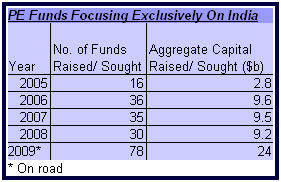 Globally, the dry powder available to PE fund managers is more than $1 trillion. (An India specific number is not available.) Buyout funds are accounting for the largest portion of this, with a total of $472 billion available. The top ten managers in private equity have $197 billion in uncalled capital available to them alone, accounting for 19% of the global total. The dry power held by the buyouts fund for Asia and the rest of the world is $45 billion.
However, there also remains a counter view from Limited Partners (LPs) when it comes to the Asia Pacific region. The investors recognise a paradox in their collective hunger for Asia-Pacific private equity, as over three quarters believe the ready availability of capital is making it too easy for weak GPs (General Partners) to raise funds in the region.
A host of funds from India are out on road to raise capital now. "India surely is seen as an attractive opportunity. Between India and China what is more  clear is that India growth rate will be more stable. Its going to be less volatile, that is the feedback that we have from lot a of LPs that we have," said Bharat Banka, MD & CEO of Aditya Birla PE, the firm plans to raise a $250 million mid-market focused private equity fund.
Indivision Capital, the private equity arm of Future Capital, is also out to raise its second fund and is targeting a bigger size than its current $425 million.
On whether the fund raising environment concerns them, Atul Kapur, Managing Director, Indivision Capital told VCCircle in an earlier interview, "There is always a market for what you have to offer and we think what we have to offer is unique in Indian construct. We have everything from growth to leveraged buyouts. We have a very strong partner here domestically in the industrial businesses that he runs. We don't think we should have a problem."
India Value Fund plans to raise their second fund, while Citogroup Venture Capital International ex-partner Ajay Relan's CX Partners is also out on road to raise a fund. 
2008-PE Global Fundraising Hits $554 B
Preqin's final figures for global private equity fundraising show that a total of 768 funds achieved a final close over the course of the year, raising an aggregate $554 billion in commitments. This was not split evenly over the course of the year, and as the full force of the credit crunch hit in Q3 and Q4 of 2008 fundraising slowed significantly.
However, 2008 remains a successful year for the global private equity industry in terms of capital commitments gained, and is the second highest fundraising year in the history of the industry.