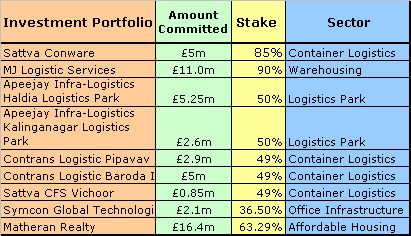 Eredene Capital Plc, a London-based Alternative Investment Market (AIM)-listed fund, is planning to raise a new fund with a targeted corpus of $300 million, according to a top official of the fund. This fund, the second one from Eredene, will be raised from institutional investors who will be limited partners and not from the stock market as it did in the case of its first fund which had a corpus of $100 million.
Eredene will be a general partner and will earn a management fee and a carry. The fund, which invests in Indian infrastructure projects, expects the first close of its second fund at  $75 million by the end of the first quarter of 2009.
The fund will primarily focus on medium sized projects in the range of $15 million to $50 million.  The Eredene Group would receive a management and performance fee in return, Ranveer Sharma, Principal, Eredene Capital, told VCCircle in an interview.
With the public markets not in a good shape, the AIM listed fund chose to raise an independent fund rather than tapping the capital markets for its second fund. "The public markets all over the world, are not very conducive and we believe that an independent fund would be far better in these environments," says Sharma.
Eredene has also hired an international investment bank for the capital raising exercise and is currently conducting road shows across Asia pacific, Middle East and Europe. Eredene Group's project team in India has identified opportunities involving additional investments of up to £200 million.
Among the possible future projects, the Eredene Group is part of a consortium bidding to build and operate two container terminals in India – one at the southern port of Ennore and the other at JNPT Port in Mumbai. Eredene is bidding for the projects with Spain's leading port operator, Barcelona-based Grup Marítim TCB SL, Spanish construction group Obrascón Huarte Lain SA and GE Mauritius Int Holdings, a subsidiary of America's GE Equipment Services. Eredene holds a 22% interest in each consortium.
Out of the nine projects in the firm's existing portfolio, three are already generating revenues. Eredene always invests in projects than at entity level, as it is more profitable, explains Sharma. "We like to do rupee deals with the local development partner and we prefer to invest in green field projects," he said. Also, to be able to invest in a holding/ company level, one requires a large equity ticket size, Sharma said.
Ranveer clarified that all the firm's investments are managed on a day to day basis by its local development partners. "Eredene is not involved in the day to day management of the projects, even though we may have majority stake," he said.
The firm usually looks at taking a majority stake in its portfolio companies with the idea of having the local development partner managing the projects on a more proactive basis. "We take a seat on the board of the company and provide our operational expertise and inputs," explains Sharma.
The Group has invested in  three container freight stations,  an inland container depot, a large scale warehousing and distribution operation, two logistics parks, an IT office complex and  a large-scale affordable housing development. Having four container projects in its portfolio, Sharma confessed that Eredene was getting to be known as a specialist investor in port services.