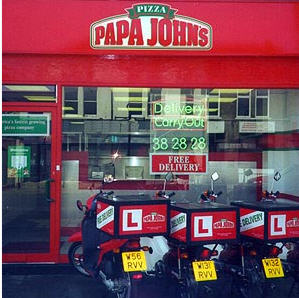 In its sixth deal since it set up shop two years ago, the Chennai-headquartered TVS Shriram Growth Fund has invested Rs 50 crore to pick up an undisclosed stake in Om Pizzas & Eats Private Ltd, the Indian franchisee of international chain of Papa John's Pizza, Chili's Grill & Bar and The Great Kabab Factory. Om Pizza is promoted by Bahrain-based Jawad Business Group (JBG), which has the franchise for several global restaurant and retail brands with 650 restaurant and retail outlets across the Gulf Cooperation Council States.
TVS Shriram Growth Fund I is a Rs 600 crore fund managed by TVS Capital Funds Ltd.
Om Pizza currently operates 28 restaurant outlets across India. Papa John's Pizza outlets are based in National Ca[ital Region, Mumbai, Bangalore & Pune. The Company has Chili's Grill & Bar restaurants in Mumbai, Bangalore and recently opened in Hyderabad. While the franchisee for Papa John's Pizza is for the pan India market, Chili's Grill and Bar is in the West and South India markets and for The Great Kabab Factory its in select cities in India.
The interest in the restaurant business, especially scalable franchisee plays, has increased since the listing of Domino's Pizza franchise Jubilant Foodworks earlier this year. JP Morgan and India Private Equity Fund (IPEF-a joint venture between Chase Capital Partners and Oppenhiemer), which invested in Jubilant, had exited in the IPO. The firm listed in February at an issue price of Rs 145 a share and is currently trading at Rs 617, more than 4.25x.
"The Brands in our portfolio in the form of Papa John's Pizza, Chili's Grill and Bar and The Great Kabab Factory have what it takes to be formidable players  in the pizza and casual dining segments in India and TVS Capital 's investment is very timely in terms of allowing us to capture the growing momentum in these segments," said Faisal Jawad, the Chairman & CEO of Jawad Business Group.
"The total eating-out market in India is nearly Rs 100,000cr, with less than 10% of that being penetrated by organized branded vendors. The organized branded food services industry is expected to see strong growth in the future with increase in propensity to eat out, nuclear families, working women, growing disposable incomes and urbanization," said Suresh Raju, Executive Director, TVS Capital. Hemu Ramaiah, the co-founder of Landmark Book Stores (now owned by Tata Group's Trent) and currently venture advisor to TVS Shriram Growth Fund, will work with Om Pizzas & Eats.
Lodha Capital Markets acted as exclusive advisors to Om Pizza & Eats in this transaction.
TVS Capital has invested in media firm 9.9 Mediaworx, logistics solutions provider TVS Logistics, facilities management company Dusters Hospitality and book retailer Landmark, and most recently in Medfort Hospitals, a healthcare firm focused on eye and diabetes care.