Home-grown private equity firm TVS Capital Funds has picked a 7.57 per cent equity stake in Ahmednagar-based Prabhat Dairy Pvt Ltd for Rs 85 crore (approximately $12.8 million) in the dairy firm's recently concluded initial public offer.
The PE firm made the investment through TVS Shriram Growth Fund Scheme 1B (TSGF 1B), it said on Wednesday.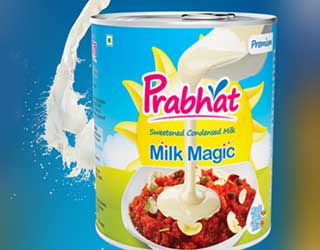 "The fund made the investment at an attractive valuation commensurate with the industry players; it is expected to yield good returns on exit," TVS Capital said in the statement.
This is the second back-to-back deal for TVS Capital that recently invested in Indian Energy Exchange. It is also the second such deal where the PE firm has invested in a company during its IPO. Last year, it joined others to come in as an anchor investor during the IPO of theme park operator Wonderla Holidays.
Founded in 1998 by Nirmal Family, Prabhat Dairy is headed by Sarangdhar Nirmal, who is chairman and managing director, and his son Vivek Nirmal, who is joint managing director.
Prabhat Dairy is an integrated milk and dairy products company, catering to institutional as well as retail customers. Its products include toned and raw chilled milk, condensed milk, milk powder, lassi, butter and ghee.
The company markets value-added dairy products under Prabhat, Flava and Milk Magic brands. It has 350 distributors across the country and has been focusing on Jammu & Kashmir, north east and western India.
Prabhat Dairy has an aggregate milk processing capacity of 1.5 million litres per day from its two integrated manufacturing facilities.
The firm's IPO had scraped through after its private equity investors cut their offer-for-sale portion of the issue to see through the public offer. Rabo Equity Advisors (Rabo India PE) and French development financial institution Proparco part exited, more than doubling their investment value in the process.
The company made a modest debut as it listed its shares on Monday.
The firm had extended the issue closure by three days and also cut the price band from Rs 140-147 a share to Rs 115-126, after it failed to clear the ropes on the third and final day on September 1. It also offered a discount of Rs 5 a share to retail investors.