There seems to be a strange connection between Chinese handset maker OnePlus and domestic experimental photography startup Movense.
The OnePlus 2's launch in virtual reality (VR) in 2015, arguably the first such event in the world, left engineering students Gaurav Vij and Himanshu Singla so inspired that they went on to float their VR-based venture Movense.
This Thursday, the 'flagship killer' maker is scheduled to launch its OnePlus 5T smartphone, a more powerful variant of the OnePlus 5. And Movense is going 2.0 this week as it looks to on-board enterprise platforms to start monetisation.
What is it about?
Movense is essentially a photo-capturing and motion photography-based social network. Perhaps the first Indian firm to develop a new file format for pictures, it offers interactive 3D photos called moves (.move is the filename) that allow users to relive the moment or take a 360-degree tour of the frame.
Moves appear as still pictures until they are interacted with. Users can swipe left or right to play or reverse-play the pictures. "If photos were to capture moments, moves are to relive them," Vij, the company's co-founder and CEO, puts it succinctly.
These are photos that support gesture-based forward/backward motion control, he explains.
Cool 'moves'
If you thought Apple's Live Photos and Android's Motion Photos already offer these features, you have another think coming.
Samsung's version, which the South Korean consumer electronics giant launched in March 2016 alongside the Galaxy S7 and S7 Edge, only captures video before the shutter button is pressed. Apple's Live Photos, which arrived in September 2015, allows the user to capture a video before and after the photo is taken.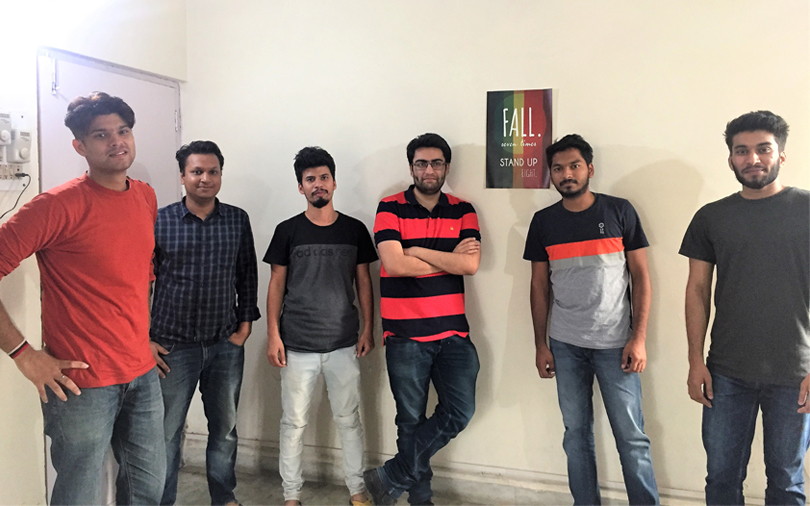 Besides, Live photos are shareable only with iPhone users using 6S and above while sharing on Motion Photos strips out the video portion and sends only the final picture.
Google, however, has added a Motion Photos option in its recently released Pixel 2 smartphone.
The birth of Movense
"Except YouTube, nobody was doing 360-degree videos... and that is why we came up with a YouTube-like site for 360-degree travel videos," Vij says.
The founders—then engineering students at Delhi's elite Netaji Subhas Institute of Technology—soon partnered content creators from countries such as France, Switzerland and Bulgaria, and populated their web sites. Meanwhile, their application to NASSCOM's 10000 Startups initiative
was accepted, where Movense was incubated for a little over six months.
"We were putting our backs into the VR/360-degree video project. We were in college then and after finishing classes, we would move to the office space provided by NASSCOM and work," Vij recalls.
The founders soon realised that the content was heavy—a 2-minute video was turning out to be 250 MB—and, therefore, not enticing enough. Data charges in India were prohibitively high two years ago.
The switch to 3D photos
"In case of VR, we understood that another camera or a standalone six-camera rig was needed for 360 videos. We thought of giving the ability to capture interactive content using just the existing mobiles... and thus worked towards creating living photo technology," Vij recounts.
He also recalls how the first product taught the duo about user behaviour. "People didn't always like putting on VR headsets to experience videos and that presented a problem of mass adoption," he explains, adding that they wanted to do "what Adobe did with pdf".
Vij and Singla then quickly partnered with content creators from European nations to create a community of pictures in the .move file format. They launched a website and, later, an app for iOS and Android users to create and share the interactive photos.
They compressed the file size to 25 MB each, and later to 2.5 MB, to ensure less buffering.
Check out moves here.
Surviving the grind
By early 2016, things were different—Vij and Singla had moved on from the 360-degree video platform, NASSCOM's incubation was over, and they had graduated. The duo had also put together a seven-member team along the way. However, funding was a problem and the venture faced a cash crunch.
"We had looked for funds but failed to get any initially. Himanshu and I did not take salary in the initial period as we continued to work out of an office in Gurgaon," Vij says.
The founders had, however, released the 'move' community online, along with an app. In merely a year, the platform had as many as 30,000 active users bringing in 2.5 million views. The organic traction gave the founders the luxury to not spend anything on marketing. Besides, the business relationships they had nurtured while running a small online business in college came in handy too.
Finally, it was in April 2017 that the company picked up $40,000 in seed funding from three individual investors—Arvind Jha, Rajeev Saraf and Nirav Choksi. Saraf also offered them a small space in his own office, Lepton Software in Gurgaon, lightening the load of rent.
Movense 2.0: Monetisation focus
"We hadn't spent much on marketing to grow the consumer-facing business. This means most people didn't know about our product compared to, say, Apple's Live Photos or Motion Photos," says Vij, adding that the $40,000 investment provided the company the perfect launch pad.
The founder-duo is now adopting a cautious approach—they have set out to develop two other platforms that will bring in additional revenue streams. One of the products is a platform for publishers while the other is an application programming interface (API) for integration into bigger platforms.
"With our publishing platform, product reviewing sites, car resellers, jewellery-selling sites can list products. Bigger e-commerce players can also use it," Vij explains.
And that's a completely plausible use case since moves can be used to capture 360-degree views on e-commerce sites, besides dynamic panoramas. "One image that shows a 360-degree product view will replace old and non-interactive 6-8 image catalogues on product platforms," Vij says.
For integration of its API package, the company claims to be in talks with platforms like Shopify, Wordpress and Medium. It is also aiming to find space on smartphone cameras, just like other modes such as panorama and portrait.
The company, says Vij, will charge publishers based on the number of views, capped at certain bandwidths. "We may charge 10 paisa per view till 150,000 views, but we will charge 5 paisa per view for 500,000 views. Our bandwidth is currently capped at 1 million views," he explains.
For the API integration model, Movense will charge based on the number of moves uploaded and interacted with. "A commercial model may begin at roughly around Rs 10,000 and can go up to around Rs 40,000 based on hits," he says.
Though the company is yet to make any money, the founders are confident that revenue will start trickling in over coming months. "There are around 300,000 websites selling products where a move can be very useful. Imagine if we just had 5% of that market," Vij explains.
But it's not going to be easy. Says entrepreneur-turned angel investor Ajeet Khurana, "Their journey will be long and difficult as they are in a space where big dogs like Google, Facebook and Apple romp around. They would need somewhere around $1 million to develop an efficient sales team to sell their tech to players like Flipkart."
Challenges
Movense currently stares at the same challenge that GIPHY—the GIF-maker—faced in early 2014. GIFs were not integrated and disallowed on popular platforms such as Facebook Messenger and WhatsApp, which is where the bread of such products is buttered.
Clicking on a GIF sent to you would open it in a new tab, which currently happens with moves. However, WhatsApp had to allow GIFs on its iOS platform in late 2016 and on Android in early 2017 given its skyrocketing popularity.
This means, the greater the number of consumers using moves, the more widely it will be accepted. "API integration and publishing platform are to ensure that our moves get popular," Vij says. How's that for a startup hack!
Says Anil Joshi, managing partner at Unicorn India Ventures: "The technology has some use cases and Movense seems to have an edge in the short term. Their success will be contingent on the company closing a couple of contracts for the enterprise model, and high usage numbers."
Given the venture's rapid expansion plans, it is looking to raise more funds to sustain operations. "We are looking to raise $500,000 by February 2018, and are in talks with VC funds and early-stage investors," says Vij.