Temasek, one of the most active private equity style investors in India, saw its net portfolio value decline for the first time since the global financial crisis in 2008-09 as it was stung by the poor performance of its investments in listed companies.
The Singapore government's investment arm also saw its net investments fall to the lowest level in seven years as its divestments rose to a record S$28 billion for the year ended March 31, 2016. Gross investments at S$30 billion were the same as the previous year and just a tad short of S$32 billion, an all-time high in 2007-08.
Temasek had seen negative net investments in FY2008-09 as divestments surpassed investments by S$7 billion that year.
Temasek International's executive director and CEO Lee Theng Kiat, said: "We saw the liquidity-driven market rally earlier in the year, and took the opportunity to step up our divestment pace, relative to the past few years. The record divestment reflected in part our plan to reshape our portfolio, in line with what we saw were the longer-term trends, such as in the financial, life sciences or digital space."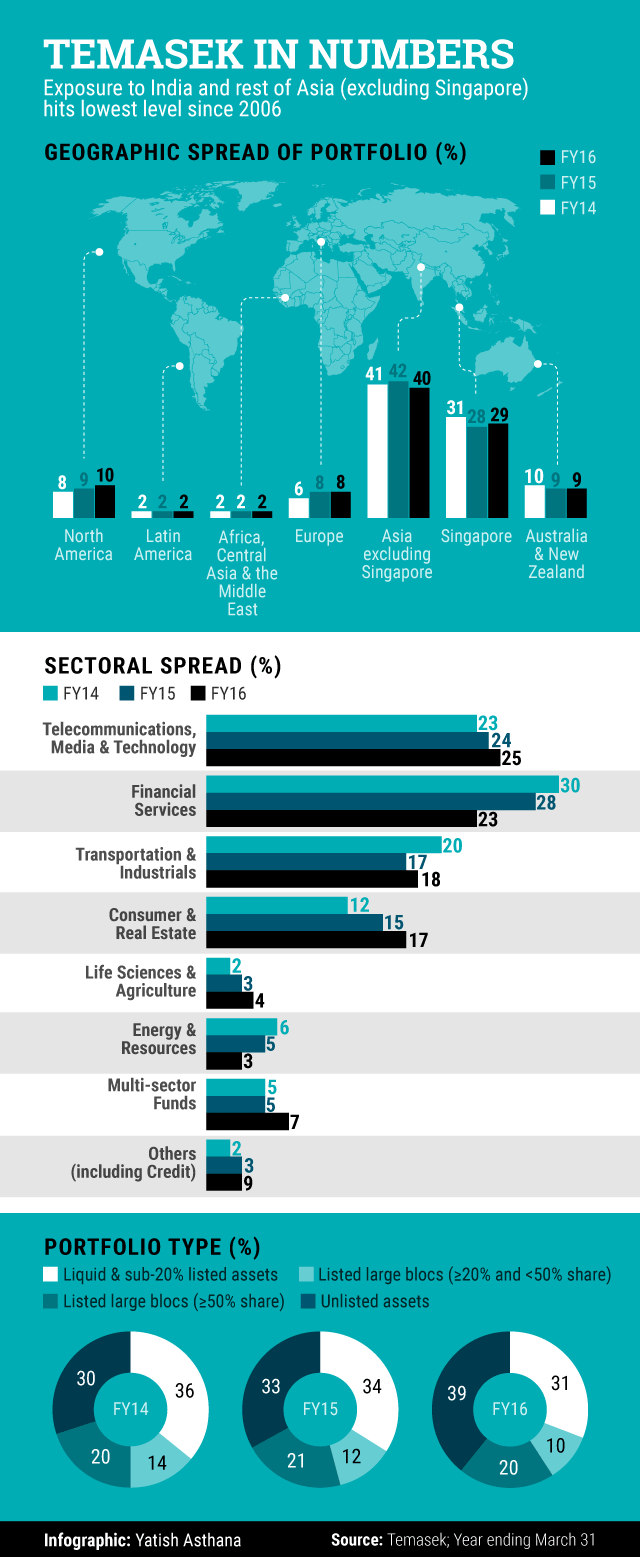 The US accounted for the largest share of new investments during the year, followed by China. Temasek would also open a second office in the US, in San Francisco, later this year.
What is notable is the exposure to private firms. Temasek's portfolio value in unlisted assets that had been rising for the last few years shot up to 39%. Temasek's exposure to private firms also overtook its cash and cash equivalents as an asset block where it also clubs investments in firms where it holds under 20% stake.
Temasek decreased its exposure to Asia (outside of Singapore, which covers China, India, Japan and the rest of Southeast Asia) marginally to 40% from 42% the previous year. This is the lowest level since FY2005-06 when its exposure to Asia excluding its home market was at just 36%.
The firm maintained its dividend income at S$8 billion last year despite its one-year total shareholder return (TSR) declining 9.02% for the year. Longer-term 10-year and 20-year annualised TSRs were both 6%. TSR since its inception in 1974 was 15%.
"2015 was a challenging year for the global economy, reflecting fears over policy ineffectiveness after a long period of quantitative easing since the 2008-09 global financial crisis and heightened concerns over leverage in China," Temasek chairman Lim Boon Heng said in a note along with the firm's annual report.
India
Temasek, which was the most active private equity style investor in India last year (click herefor more) by number of deals, has gone slow in 2016.
It is yet to seal any deal in the country since January, according to VCCEdge, the data research platform of News Corp VCCircle.
In had invested in Glenmark Pharmaceuticals, a global manufacturer and distributor of branded and generic pharmaceuticals; ICICI Prudential, a life insurance company; and CarTrade, an online auto classifieds company, among other firms, last year.
Although Temasek is one of the two state investment firms of Singapore, its sister entity GIC is officially the sovereign wealth fund of the island nation. GIC is also a prolific investor in the country. Besides its vast public equities portfolio, it is a large investor in Indian real estate sector. GIC has sealed around half a dozen deals in India in the first six months across sectors.
Both GIC and Temasek are also Limited Partners or investors in third party India-focused private equity firms. Temasek also owns a venture debt firm InnoVen.
Also read: Temasek's exit activity hit new high with $14B in FY15, ups exposure to private firms
Like this report? Sign up for our daily newsletter to get our top reports.