If there is one area within the new-age technology that is red hot right now, it is software-as-a-service or SaaS – both in terms of startup activity and as a tool for entrepreneurs to build a low-cost business from scratch. Techcircle.in has come up with a listing of India's top 10 emerging SaaS companies who have shown significant market traction, created unique products or services that can disrupt existing markets and most importantly, have a very high potential to make it big in the coming years.
The listing has been compiled by a distinguished jury comprising Shailendra Singh, MD, Sequoia Capital; Manik Arora, MD, IDG Ventures and Mukund Mohan, an active angel investor. These 10 companies have also showcased their products during Techcircle Runway at Techcircle SaaS Forum 2012, in Bangalore on Aug 31. Here are brief notes on the 10 startups (note: this not a ranking, the companies are arranged in alphabetical order).
Capillary Technologies Pvt Ltd
Its flagship product is inTouch, a Cloud-based CRM solution aimed at large enterprises and integrated with billing and point-of-sale outlets of retail chains. The company also offers a stripped-down version called TruTouch that targets smaller retailers (1-15 stores). As of May 2012, it was processing around 8.5 million transactions a month, catering to as many as 140 brands and 22 million consumers. Incubated by IIT Kharagpur with a soft loan of Rs 15 lakh, Capillary raised its first round of angel funding from Harminder Sahni, Naresh Malhotra and Qualcomm ($100,000 as the winner of QPrize). In January 2011, it raised a second round from Sahni and Malhotra besides new investors Rajan Anandan and Venkat Tadanki, along with a few others. The company had paid back the incubation loan to IIT Kharagpur in February 2011, after it became profitable in mid-2010. And the vision of the company? We would like to be the Salesforce of retail CRM five years from now, says co-founder and CEO Aneesh Reddy.
Set up in 2011 by BITS graduate Shivakumar Ganesan (who teamed up with Ishwar Sridharan, Siddharth Ramesh and Vijay Sharma to start the venture), Bangalore-based Exotel offers Cloud-based business phone systems to SMEs and enables companies to manage customers via inbound voice calls and SMS without getting into the hassles of setting up a full-fledged call centre. What's more, the company adds the intelligence of the Internet with telephony to provide all relevant data needed to run a business over voice & SMS. Ganeshan had earlier launched Roopit, a real-time micro classifieds tightly integrated with voice and SMS. Before exploring the entrepreneurial space, he had worked with companies like Yahoo and Flipkart. In March this year, Exotel secured Rs 2.5 crore ($0.5 million) from Mumbai Angels and Blume Ventures. As of now, the tech startup has over 65 clients and a monthly revenue run rate of Rs 4 lakh.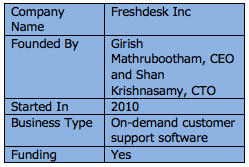 The two-year-old startup offers on-demand customer support software and provides multi-channel social support (e-mail, website and social networks like Twitter and Facebook) for businesses. It's on the Cloud, which means it's inexpensive, can be set up within a few minutes and can be operated from anywhere. Currently, Freshdesk has more than 1,000 global customers across 50 countries, out of which more than half are paid subscribers. It also plans to add Cloud telephony to its service bouquet. Last December, it raised Series A funding of $1 million from Accel Partners and even though it didn't need fresh funding, as many as eight investors lined up to get a piece of this startup. It finally raised $5 million in Series B this April, from existing investors Accel Partners and Tiger Global Management.
Induslynk Training Services Pvt Ltd/Mettl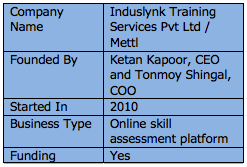 It has developed Mettl – a skill assessment platform to measure, analyse and improve professional skills across multiple industries. Primarily used for screening pre-hires and for tracking employees' competency and training needs at a company level, others like job portals, education companies, large publishers, colleges/institutions and training/skill improvement companies are also using Mettl for their business needs. The company has over 50 paying clients and Mettl claims to have witnessed a 10x growth last year, a feat it is aiming to repeat this year as well. The Gurgaon-headquartered firm, which has offices in Pune and Bangalore, is also expanding overseas with an office in Singapore opening next month, followed by a US office by the end of this year. Mettl recently raised $4 million in a Series A round led by IndoUS Venture Partners and its existing investors. It had earlier raised angel rounds from Blume Ventures and other investors including Sasha Mirchandani, Puranjaya Singh, Sunil Sharma and Naveen Tewari.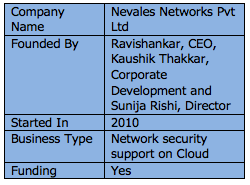 Founded in January 2010, this Mumbai-based startup provides 24×7 network security support services to small and medium enterprises (SMEs) on the Cloud. Nevales' offering is subscription-based and is free of maintenance, licensing and scalability issues. The company was set up by Kaushik Thakkar, a seasoned entrepreneur, Sunija Rishi, a marketing specialist, and Ravishankar, who was with the founding team at Yes Bank. In April 2011, Nevales raised an undisclosed funding from Seedfund. It mainly caters to sectors like education, healthcare, travel, finance, manufacturing and automobile, and hopes to target at least 1 lakh of the 35 million SMEs in India over the next five years.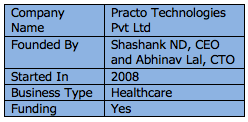 Set up in 2008 by IT grads Shashank ND (CEO) and Abhinav Lal (CTO), this Bangalore-based clinic management software developer offers Practo Ray, a web-based tool for appointment scheduling and healthcare data storage. Other products include Practo Virtual Receptionist that provides a dedicated health line for handling patient calls round the clock, while Practo.com is an online platform for patients to get started on doctor search. The Practo Ray platform currently manages 10,000 appointments a day, with 8,000 doctors at 5,000 dental, wellness and other healthcare centres across India using the service. The company secured $4 million from Sequoia Capital this year in a Series A funding.
Reach Process Outsourcing Pvt Ltd/Reach Accountant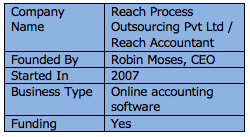 A Chennai-based startup with an office in Bangalore, its flagship product is Reach Accountant – the online accounting software that can be a preferred replacement for desktop apps and human interface. Its service range covers all things related to indirect taxes including monthly TDS, VAT and sales tax, as well as daily accounting and billing. The company is targeting around 5 million SMBs within the country all of whom file tax returns electronically. Initially started as Reach Tax by Robin Moses (CEO) in 2007, the online tax preparation services firm evolved to become Reachaccountant.com in April 2010. It was incubated at Morpheus Venture Partners in 2010 and last year received an angel round from Rajan Anandan and Rehan Yar Khan. The company broke even last year and has acquired 1,000 subscribers till date. It aims to take this number up to 50,000 by 2015 and plans to foray into six more cities by the end of this year. It is also looking to raise Series A funding in the next 4-5 months.
Webklipper Technologies Pvt Ltd/WebEngage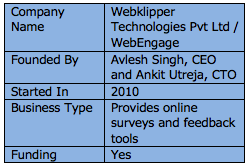 It provides online surveys and feedback tools for e-commerce firms, vertical search sites and blogs, which can be integrated with websites. The company has over 1,500 customers worldwide (as on April 20, 2012) out of which 5 per cent are paid customers. But unlike many startups, around 75 per cent of its total customer base is located overseas, especially in the US. WebEngage raised angel funding in June 2011 from the Indian Angel Network, led by Google India chief Rajan Anandan in his personal capacity. Recently, it received $0.5 million (Rs 2.8 crore) from the India-focused investment firm GTI Capital Group. The startup is also planning to launch a third product which would be a plug-and-play platform for companies to drive engagement by displaying relevant messages to target visitors.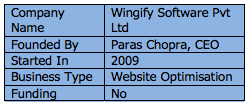 Three-year-old Delhi-based Wingify develops intelligent, affordable and simple-to-use tools to increase website sales, signups, downloads and conversions by using split and multivariate testing. Its Visual Website Optimizer, a split testing tool, allows marketing professionals to create different versions of their websites to check out which one produces maximum conversion/sales. It is also a multivariate testing tool with a number of additional features like behavioural targeting, usability testing and heat maps. Founder and CEO Paras Chopra holds a BE in Biotechnology from Delhi School of Engineering and has extensive exposure to computational biology, machine learning, online marketing and web technologies. He has also founded Kroomsa that helps Indian bands promote their music online. Till date, Wingify has 1,500 customers in its kitty, including Microsoft, Groupon, AMD, GE and Mitsubishi, among others.
ZipDial Mobile Solutions Pvt Ltd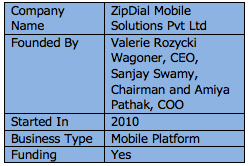 Bangalore-based ZipDial enables companies to break free of SMS clutter and improve lead generation. The company essentially uses a 'missed call' method to access users' numbers. One can simply dial its local number (ZipDial purchases those for all states) and the call gets automatically disconnected, so that the user is not billed. However, those numbers get captured by ZipDial's platform and its clients use the mobile numbers of those who have shown interest in their products/services for sending promotional messages, coupons and offers. In April 2011, ZipDial raised $800,000 in angel funding from a consortium led by the Mumbai Angels. ZipDial was set up by a team of three, including an expat Valerie Rozycki Wagoner (CEO), a Stanford graduate who has previously worked at mobile payment startup mChek besides eBay in California.