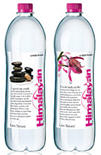 Despite gradually hiking stake in mineral water producer Mount Everest Mineral Water (MEMW)--that bottles and sells under the brand name Himalayan, arguably the only internationally accepted natural mineral water from India--Tata Tea has barely managed to bring down its average cost of acquiring shares of the company.
Tata Tea, that struck a deal to acquire 24% in MEMW for Rs 115 crore in June 2007, has since then upped its holding to over 40%. In the latest transaction, early this month, it acquired 2.2 lakh shares in MEMW from Tree Line Asia Master Fund at Rs 61.7/share.
Over the last one year, when the MEMW share prices crumbled due to the global market crash, Tatas have brought down the average cost of acquisition from Rs 140/share to Rs 131/share.
At the current price of Rs 63.45, MEMW is valued at Rs 215 crore against the valuation of Rs 480 crores at the time of original deal.
Tata Tea is estimated to have invested a total of Rs 182.7 crore to buy shares of MEMW that is currently valued at Rs 88 crore or notional loss of over 51% around or Rs 94 crore.
But, this is peanuts compared to the profit of approximately Rs 2,100 crore that Tata Tea made on its investment in US-based flavoured water-maker Glaceau within a year of its acquisition. It sold out when Coke acquired Glaceau making huge profits out of exiting the company.