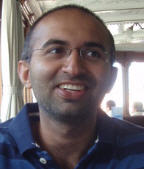 This is an interesting migration from early stage to seed stage investing. Tejus Sawjiani (in pic), founding partner, Singularity Ventures, is raising a seed fund to provide initial capital to startups. The $10-million early-stage VC firm, founded by Sawjiani with his colleague Vishwa Chandra, has invested in half a dozen early stage companies in India and the Middle East so far.
About 70-80% of the fund has been exhausted and the remaining corpus of $3 million will initially be deployed for the seed fund. The fund is on the road to seek more commitments from its limited partners.
"We want to stay small and help scale the companies as this is what excites us than being passive investors in them," said Sawjiani. He also said, the seed fund would pick a significant chunk of equity ranging from 25% to 30% in the company.
"After testing waters across companies and sectors in India and Middle East, we decided that seed stage investing is what we are excited about and we would want to do," said Sawjiani, an entrepreneur-cum-investor who sold his company, Trading Objects, an algorithm-based trading tool, to a hedge fund in the Middle East.
Sawjiani, who is also a member of the Mumbai Angels, said, the fund would also see commitments from both the founders/investment managers. Having skin in the game not only ensures better returns but also makes for "good economic sense," he says.
A lot of pure play early stage funds have migrated to late stage investing and consequently a bigger fund as the 2:20 fee structure on a small seed fund translates into far less returns. There are funds like Morpheus Venture Partners, who tend to pick up significant equity in exchange for mentoring and capital. Then there is Mentor Partners, another fund which provides mentorship and helps portfolio companies leverage their connections in India and Europe.
Singularity's seed fund is looking for the "right kind of investor" to raise up to $5 million. The ideal investor would be one who will bring patient capital with a longer investing horizon of up to 10 years in India. Though small in size, the fund is looking at returns upwards of 25% on the investments.
He also said, they have deep connections in the Middle-East through which the potential companies will really benefit. Sawjiani added that early stage investments made from the fund across companies in India and Middle East are also showing positive returns and are attracting follow on investment offers from other VC firms.
Singularity Ventures has put in $300,000 into Hidden Reflexes, a Bangalore-based company building a customised browser for India. "The browser will include a whole set of tools and features which will give a sense of localisation to the Indian market", said Saijiwani, the first investors in the company.
The fund has also put $100,000 into Unleashing Aces, a Pune-based company that provides management training & assessment products. "It did not even have a name when we invested in the company and it is seeing amazing traction now," said Saijiwani for Unleashing Aces. It has also invested in Life Plan India, a financial services company based out of New Delhi, headed by a team of senior ex-Grindlays & Standard Chartered bankers.
The company also made personal investments along with Mumbai Angels in InstaHealth Solutions, led by Ramesh Emani, a Wipro veteran, developing solutions for hospitals. They again co-invested with Mumbai Angels in Apalya Technologies, a company focused on delivering mobile entertainment services to subscribers.