Indian shares fell on Monday in volatile trade after finance minister Arun Jaitley's Budget for 2016-17 failed to enthuse investors.
The BSE Sensex slumped nearly 2.9 per cent to 22,494 in mid-day trade but recovered most of the lost ground to close 0.66 per cent lower at 23,002. The 30-stock benchmark index plunged initially as Jaitley focused on the rural economy and had few takeaways for investors.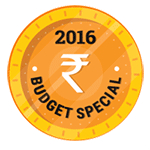 In a development that hurts investors, the budget proposed to impose a dividend distribution tax on individuals and firms earning Rs 10 lakh in dividend income annually. The budget also increased the Securities Transaction tax in case of options trading to 0.05 per cent from 0.017 per cent.
However, Jaitley refrained from reintroducing the long-term capital gains tax, as was widely feared, and also kept unchanged the holding period of shares for the short-term capital gains tax at one year.
State-run Oil and Natural Gas Corporation was the biggest loser, slumping almost 10 per cent, after the budget proposed the rate of the oil industries development cess on locally produced crude oil at 20 per cent compared with a fixed Rs 4,500 per million tonnes.
Auto stocks were in the red after the budget proposed a tax to be deducted at source at the rate of 1 per cent on purchase of cars above Rs 10 lakh. The budget also proposed to levy an infrastructure cess ranging from 1 per cent to 4 per cent on cars and sport-utility vehicles.
Maruti Suzuki, the nation's biggest carmaker by volume, dropped almost 5 per cent while Tata Motors and Mahindra & Mahindra fell 0.65 per cent and 0.2 per cent. Two-wheeler makers Bajaj Auto and Hero MotoCorp slipped, too.
Banking stocks largely gained after the government announced a Rs 25,000 crore plan to recapitalise state-run lenders, which are struggling with mounting bad loans. State Bank of India, the nation's largest lender, rose 1.4 per cent while ICICI Bank, the biggest private-sector lender, was the top Sensex gainer after rising 2.8 per cent. Axis Bank, however, fell 2.8 per cent.
The top three software services exporter--Tata Consultancy Services, Infosys and Wipro--fell between 1.5 per cent and 3.3 per cent. Engineering companies Bharat Heavy Electricals Ltd and Larsen & Toubro were among the other losers.
Cigarette maker ITC plunged as much as 7 per cent after the budget increased excise duty on tobacco products but recouped losses to end 1.6 per cent higher.