Private equity deals as well as strategic merger & acquisitions (M&A) transactions in the consumer space slowed down in 2013 as PE firms stayed away from sealing big ticket investments and lack of large M&As hit deal making in the sector.
Investors, investment bankers and companies feel that 2013 was a year of negotiations between investors and entrepreneurs. They add that the cautious investor was waiting for valuations to come down to a normal level and activity will be noticed in the next quarter.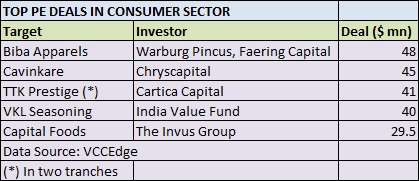 PE
The consumer sector spanning both products and services includes fast moving consumer goods (FMCG), apparel, retail (excluding e-commerce), hospitality, education and similar services, saw PE deal volumes skid from 134 to 104.
"Big deals in the consumer sector have not happened in 2013 due to the past baggage of investments done by PE firms in this sector. The previous deals have not paid them returns because of high valuation entry points, scalability of promised business plan not achieved by portfolio companies and bad publicity of companies in the apparel sector," said Rajiv Kapasi, managing director, BMA Capital Advisors.
The combined deal value declined from $1.54 billion in 2012 to $622 million in 2013. This was largely due to lack of large deals with the top four PE transactions placed in the $40-50 million bracket including Warburg Pincus and Faering Capital's investment in Biba Apparels, ChrysCapital's bet on Cavinkare, India Value Fund's investment in VKL Seasoning and Cartica Capital's investment in TTK Prestige.
In contrast, last year there were five PE deals in the $100 million or more bracket including Marico, Godrej Agrovet and Godrej Consumer in the FMCG & agri space besides two large transactions in the hospitality segment- Thomas Cook India and Cox & Kings' UK arm.
Keshav Mishra, partner at Baring Private Equity Partners India, added, "I feel that the premium branded goods segment and the FMCG sector continues to lead the interest in consumer sector. The deals in consumer sector are not very capital intensive, so you really do not need much money to expand. Hence may be higher deal values were not seen in the sector."
The outlook looks positive for 2014 as investors and investment bankers feel that there will be closure of many deals in the next quarter.
Rajesh Srivastava, chairman and managing director of Rabo Equity Advisors Pvt Ltd (a subsidiary of Rabobank) said, "There are a number of deals in the making for the FMCG sector. Due diligence is going on and interest has definitely increased within the sector. The process which took 5-6 months is now taking a year- that is the reason for decline in number of deals."
"A lot of new fund managers started showing interest in the consumer sector in 2013. Even VC players started to show queries for consumers sector which implies that the sector is maturing. Personal care and food are the sectors which are seeing maximum traction," he noted.
Ritesh Chandra, executive director and head, consumer group, Avendus Capital said, "I believe 2013 was a year when the investor community was waiting for valuations to be normal. We foresee that in 2014 the overall sentiment will pick up and there will be an increase in the discretionary spends."
M&A
Mergers & acquisitions in the consumer space was equally hit. Indeed, the hit on deal value was much higher as big ticket cross border deals of last year was not visible this year.
The only two deals in the $100 million range were Tesco buying stake in Tata's hypermarket chain Star Bazaar and Qatar-based Hassad Food acquiring majority stake in Bush Foods Overseas Pvt Ltd, a Delhi-based firm that makes and exports basmati rice, which also provided Standard Chartered Private Equity an exit from its two-year-old investment.
The other two significant transactions were Ravi Jaipuria group acquiring Delhi unit of PepsiCo bottler Pearl Drinks and Saudi Arabia-based Zamil acquiring local AC maker Advantec Coils.
In comparison last year there were a slew of big deals including Diageo's deal with United Spirits in the liquor segment (a transaction which was completed this year with an open offer) besides two large overseas acquisition in the hospitality space by Sahara Group.