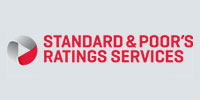 Rating agency Standard and Poor's (S&P) affirmed India's investment grade sovereign credit rating of 'BBB-' for the long-term and 'A-3' for short-term but said the outlook on long-term rating remains negative.
It said the rating call rests on several key strengths of India including a robust participatory democracy of more than 1 billion people and a free press, low external debt and ample foreign exchange reserves besides an increasingly credible monetary policy with a largely freely floating exchange rate.
It, however, cautioned that these are counterbalanced by significant weaknesses, which include an onerous burden from its public finance, lack of progress on structural reforms and shortfalls in basic services typical of a nation with a per capita GDP of $1,500.
The rating agency noted that the Indian government has sent mixed signals on subsidy policies. On the positive side, the government has decided to deregulate domestic diesel prices and state-owned oil companies are increasing their domestic prices in steps. The government had planned to phase out diesel subsidies (its single most costly subsidy) by year-end. However, global oil prices that are higher than what the government was expecting in its plans and the depreciation of the rupee against the dollar will delay the phasing-out of diesel subsidies.
On the negative side, the government has secured parliamentary approval to expand coverage of food subsidies to almost two-thirds of India's households. This act could almost double the size of the government's food subsidy in future budgets to about 1.5 per cent of GDP.
"The new government will face difficult tasks to place its fiscal accounts on a firmer footing: phasing out of diesel subsidies, financing the expansion of food subsidies, addressing other subsidies such as those for fertiliser and introducing the nationwide rollout of a common goods and services tax," it said.
The rating agency said it expects India's net general government debt to GDP to fall to 70 per cent by the end of the current fiscal year in March 2014, although interest costs will still consume nearly a quarter of revenues. However, it expects the financial sector, under the new leadership in the central bank, to be gradually liberalised and a steady disinflationary environment to emerge.
S&P said that India's external position is an element of strength for the rating, although it sees some fragilities. As of the end of March 2013, India's foreign currency reserves covered about six months of current account payments.
External debt net of liquid assets equalled only 9 per cent of current account receipts (CAR), and the broader measure of net external liabilities to CAR was a bit higher at 53 per cent.
"These indicators suggest that India does not face the same degree of risks in maintaining the confidence of external creditors as that faced by some other countries at a similar stage of development with more open financial accounts," it said.
According to S&P, it expects current account deficit to narrow slightly to about 3.7 per cent of GDP by March 2014, mainly due to government restrictions on the import of gold and weaker domestic demand.
India's current account deficit widened significantly in 2013 to about 5 per cent of GDP, the highest in more than a decade, which had seen deficits more in the range of 1-2 per cent of GDP. The deterioration of the current account and changing perceptions about global liquidity conditions weakened confidence in the rupee, leading to a 22 per cent fall in its value against the dollar between May and August this year. It has regained some of the lost value since then.
Outlook
The negative outlook indicates that S&P may lower the rating to speculative grade next year if the government that takes office after the general election does not appear capable of reversing India's low economic growth. S&P expects to review the rating on India after the next general elections when the new government will announce its policy agenda. It noted that if the agenda can restore some of India's lost growth potential, consolidate its fiscal accounts and permit the conduct of an effective monetary policy, it may revise the outlook to stable. If, however, S&P sees continued policy drift, it may lower the rating within a year.
(Edited by Joby Puthuparampil Johnson)